Layers Upon Layers with Carol Soderlund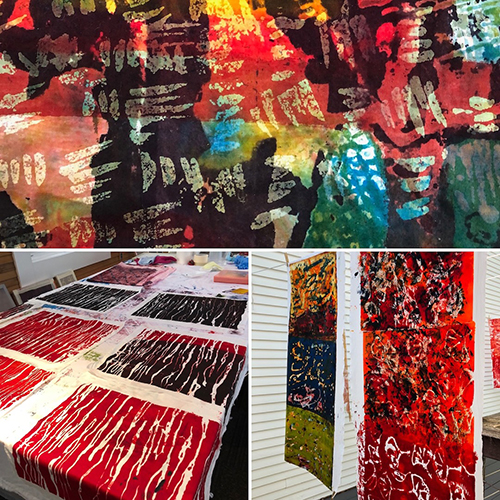 5-Days Monday – Friday, July 17 – 21, 2023
THIS CLASS IS FULL! Call 315-255-1553 to be placed on a waitlist
In Layers Upon Layers, we will use thickened Procion MX dyes and silk screens along with other media and resists to create one-of-a-kind, visually complex textures on cloth. Distressed surfaces are endlessly fascinating to artists. Weathered doorways, crumbling walls, eroding hillsides, peeling paint, and rusted metal grab our attention as they partially reveal and partially conceal. These surfaces speak of time and of process. They open the door to our inner thoughts and invite us in. In this class, we will develop experimental approaches to the layering of color and visual texture on cloth. We will use natural fibers, primarily cotton and silk, both opaque and sheer. We will build layers on the cloth, considering the effects of:
Layering translucent dye and opaque paint
Layering value and hue
Layering textures created by resists
To develop the vision, we will brush and screen, mask, spray, and monoprint onto white pfd OR previously dyed, patched, and stitched cloth, using any or all of the following:
Procion MX fiber reactive dyes
Soy wax and corn dextrin as water-soluble resists
Blank silk screens
Thermofax screens and stencils
Acrylic-based paints and mediums
Discharge paste (optional)
There will be a small amount of preparatory work in advance of the class. Carol will email participants about six weeks ahead of class. Supply fee includes a wide array of media (dyes, paints, wax, dextrin, and auxiliaries), tools for classroom use, and complete written instructions.
All Levels (some experience with Procion MX dye recommended)