These Numbered Days: Paintings and Cyanotypes by David Hornung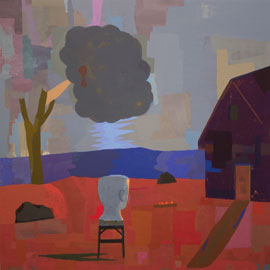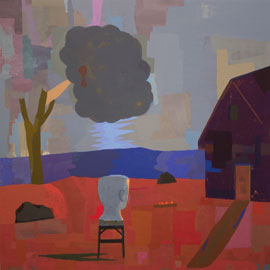 June 3 to Aug. 20, 2017
An exhibit of paintings and cyanotypes by David Hornung.
Working in the media of both painting and cyanotype, David Hornung creates intuitively by making connections between abstract shapes and defined subject matter. His images are reminiscient of storybook pages, depicting flattened but luminous subjects such as walls, ladders, rocks, trees, ropes, bones, and rickety tables. His use of color is a unifying force- pulling disparate objects together on a subconscious picture plane. Hornung states, "My process involves getting lost in irresolution and then finding my way through many adjustments as the painting develops. Whenever possible I allow my unconscious mind free play throughout the painting. I'm always on the lookout for the unexpected. This approach allows fluid interrelationships between color, shape and symbol in a way that, I hope, communicates my abiding sense of the equivocalness of existence."
Hornung has taught painting, drawing, and color at numerous art schools and universities including Indiana University, Parsons, Pratt, Skidmore College, Brooklyn College, Rhode Island School of Design, and Adelphi University. Hornung is the author of Color: A Workshop for Artists and Designers.