Schweinfurth unveils drive-by light installation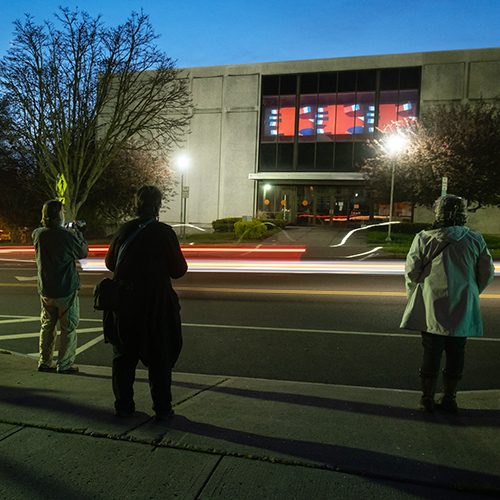 The Schweinfurth Art Center participated in the International Day of Light on May 16, 2020, by unveiling a new light installation that is projected onto the second-floor windows of the art center. The installation will be visible 9 p.m. to 5 a.m. every night through June 30, 2020, and can easily be seen in front of the center, located at 205 Genesee Street, Auburn.
The exhibit, titled "Threads of Light," is a collaboration between Skaneateles artist Lorne Covington and contemporary textile artist Gerri Spilka. Covington, who creates interactive artwork and installations as Noirflux, manipulated images of Spilka's large-scale art quilts by adding movement. The resulting work will be a changing textile of pattern and light.
"My goal first and foremost is bringing beautiful light art to the streets of Auburn," Covington said. "I love the juxtaposition of quilts and technology lighting up the front of the art center. People think of quilts as old, as textiles, as old tech. But to have them paired with computer graphics and animation using light really makes them pop."
Spilka, who lives in Philadelphia, was inspired by the opportunity to work with Covington on the project. "I tend to work at a large scale, and I love the immersive experience of working large scale," said Spilka. "I'm thrilled to have this work accessible to so many people, too. I think the accessibility aspect make it even more appealing to me."
The exhibition is part of "Light Windows," a monthlong, world-wide exhibition by artists at home and art venues closed by the COVID-19 pandemic that was organized by The HoloCenter — Center for the Holographic Arts based in New York City. The HoloCenter said in a press release that "Light Windows" is "an exhibition for neighbors, a thank you to essential workers, and a tribute to those who we have lost to COVID-19."
Covington received a grant from The HoloCenter to put on the exhibit.
The Schweinfurth is launching "Threads of Light" on International Day of Light, a global initiative created by UNESCO. The event provides a focal point for appreciation of the role light plays in science, culture and art, education, and sustainable development, and in fields as diverse as medicine, communications, and energy.
International Day of Light is held May 16 every year, the anniversary of the first successful operation of the laser in 1960 by physicist and engineer Theodore Maiman. The laser is a perfect example of how a scientific discovery can yield revolutionary benefits to society in communications, healthcare, and many other fields.
" 'Threads of Light' was planned as a way to provide art to our community during the COVID-19 pandemic without putting anyone's health at risk," said Donna Lamb, executive director of the Schweinfurth Art Center. "People can walk or drive by to see the exhibit."
Lamb said the Schweinfurth plans to organize other drive-by art opportunities throughout the community. "Art is important to people's well-being, especially during the pandemic, and we want to make it accessible to everyone," she said.