Rochester-area artist's work travels the yellow brick road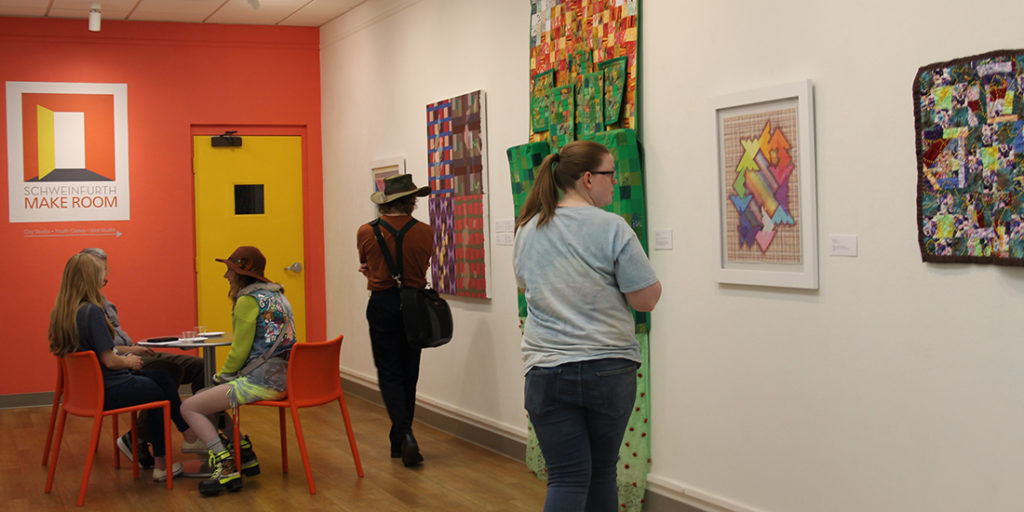 Kevin Carr creates multimedia pieces with a focus on queer iconography
AUBURN, NY (June 22, 2023) – Artist Kevin Carr, who grew up in Canandaigua and now lives in Farmington, NY, creates multimedia pieces with a strong focus on textiles and quilting while also pulling from the canon of painting. But it took him a while to get there.
He attended the School of the Art Institute of Chicago for a master's degree in painting and drawing, seeking an expanded and interdisciplinary focus to painting. "The first months there, I hated everything I made," he said. "I ended that semester feeling so defeated."
Then Carr realized that he didn't move to Chicago to create traditional paintings; he came to experiment and play with different materials. The outgrowth of those experiments can be seen in "I Am a Friend of Dorothy," on display in Schweinfurth Art Center and Cayuga Museum of History & Art through Aug. 20, 2023. He is the second Emerging Artist to be featured this year in both institutions as part of a joint project.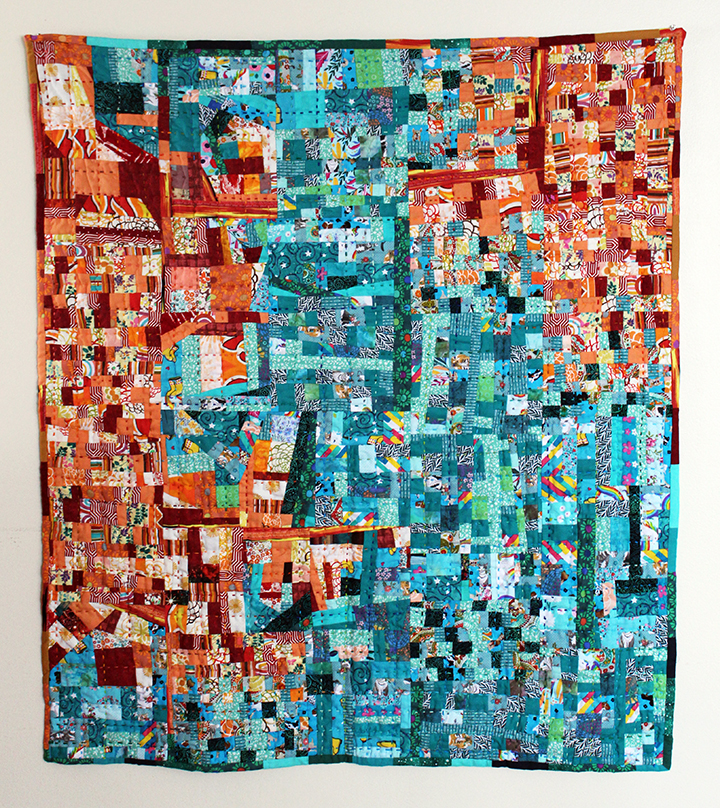 Carr's foray into fabric began during his undergraduate work at Alfred University in a class called Mixed Materials. "Every student was given a 10 by 14 foot piece of muslin to create a work with. I tore it into long strips and dyed it with watered-down house paint," he said. "Using the strips, I created a woven installation. I even asked for 20 more feet of muslin to make it larger."
His love for textiles was cemented when he inherited boxes of denim scraps from his grandmother, who moved to a senior living community. "I made this huge sculpture about the size of a mattress standing on its edge," he said. "That's where the quilting started."
He is interested in all aspects of quilting, especially its history. During summer 2022, Carr visited the International Quilt Museum in Nebraska. Through that visit and subsequent research, he learned that quilting dates back hundreds of years. "The earliest depiction of a patchwork textile is found in Egyptian hieroglyphics, and the earliest physical quilts that still remain come from the Middle East and northeast India," he said. "We can even find the pattern called The Flying Geese by U.S. quilters in central Asian patchworks from hundreds of years ago."
He traces his interdisciplinary nature and passion for formalism to two queer modernist artists: minimalist painter and sculptor Ellsworth Kelly and sculptor and installation artist Felix Gonzalez-Torres. Kelly is known for his color field paintings and large, minimal, color forms. On the other hand, Gonzalez-Torres used readymade objects like candy, lightbulbs, and strings of beads to speak about love and loss.
Carr also explores concepts of queerness in his work. "'I Am a Friend of Dorothy' is my way of claiming space for myself and others," he said. "The project is meant to be a window into the joy that queer relationships, both romantic and platonic, can create."
The title references the movie "Wizard of Oz" and is a phrase that was used covertly to identify LGBTQ people in the 20th Century. The use of the phrase has declined in recent decades due in part to LGBTQ acceptance becoming fashionable. However, threats remain for the community, Carr added.
"In the current political climate, members of the LGBTQ community are not only fighting for their rights but also the very breath they breathe," he said. "My show is supposed to give anyone who knows the referenced film a place to connect to the concepts being referenced."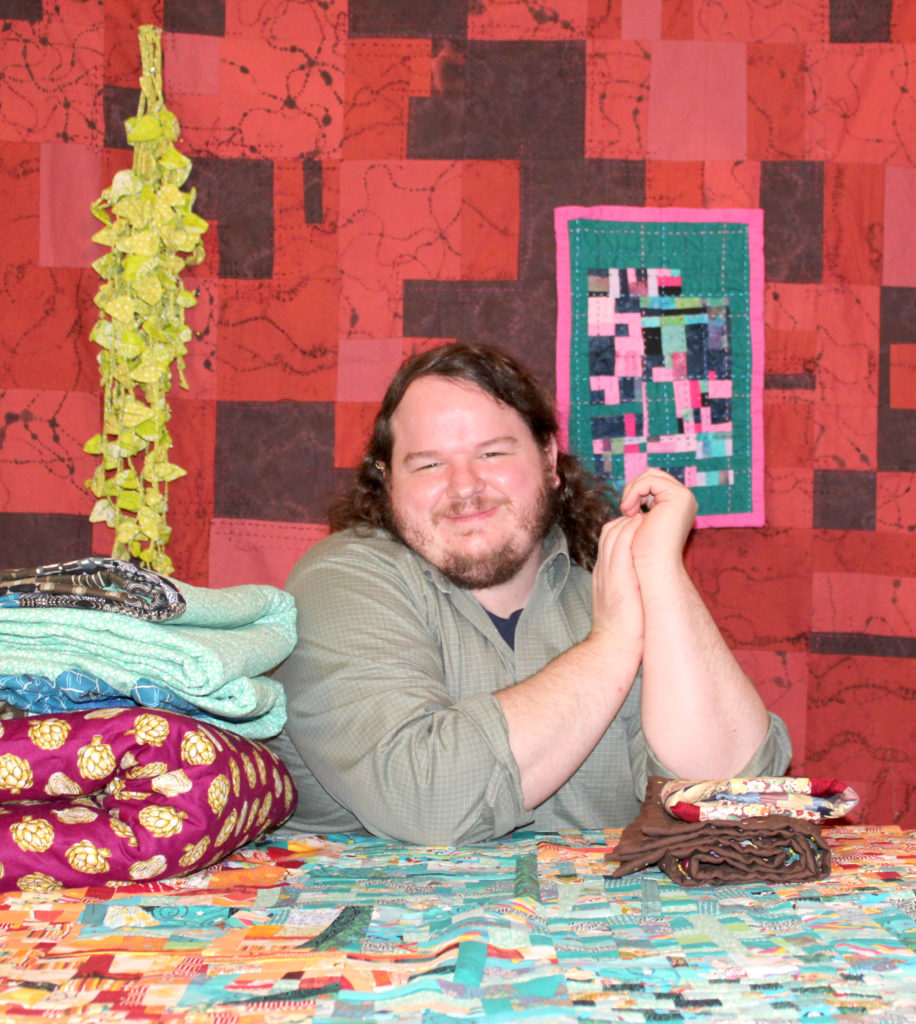 Carr is leading two workshops July 1, 2023, a morning Family Fabric Painting Workshop for families with children aged 5 and older and an afternoon Improvised Scrap Quilting Workshop for people aged 16 and older. The morning session meets 9:30 a.m. to 12:30 p.m. and costs $10 a person. The afternoon workshop meets 1:30 to 5 p.m. and costs $45 a person. Space for both workshops is limited, and those interested can sign up at https://schweinfurthartcenter.org/i-am-a-friend-of-dorothy/.
"The workshops are my way of sharing a piece of my art practice with the participants," he said. "They are meant to spark creativity while also giving participants a look into my process." Each workshop includes an artist-led tour of his exhibit.
Carr's goal in creating this exhibit was to honor the people he loves. "When I think back to the people that have made the biggest impact on me – besides my family – it is the LGBTQ people, specifically gender non-conforming individuals and queer womxn," he said. "I hope they feel seen amongst the work."
The Schweinfurth's summer 2023 exhibits are sponsored by Osborne Memorial Association, Nelson B. Delevan Foundation, and New York State Council on the Arts.
If you go …
WHAT: "I Am a Friend of Dorothy" exhibition by artist Kevin Carr
WHEN: June 10 to August 20, 2023
WHERE: Schweinfurth Art Center, 205 Genesee St., Auburn, and Cayuga Museum of History & Art, 203 Genesee St., Auburn
SCHWEINFURTH GALLERY HOURS: 10 a.m. to 5 p.m. Wednesdays through Saturdays and 1 to 5 p.m. Sundays
CAYUGA MUSEUM GALLERY HOURS: 11 a.m. to 4 p.m. Wednesdays through Saturdays
ALSO ON DISPLAY: "Nancy Crow: Sequences, Riffs, and Drawings" and "The Palace at 3AM" by artist Gary Sczerbaniewicz
COST: Admission to the Schweinfurth is $10 per person; joint tickets to both facilities are $15 per person
WORKSHOPS: Family Fabric Painting Workshop; 9:30 a.m. to 12:30 p.m. July 1, 2023; $10 per person; for ages 5 and up
Improvised Scrap Quilting Workshop; 1:30 to 5 p.m. July 1, 2023; $45 per person; for ages 16 and up
Space is limited; sign up at https://schweinfurthartcenter.org/i-am-a-friend-of-dorothy/
RELATED EVENT: Schweinfurth and Cayuga Museum are closing Carr's exhibit with "A Night with the Friends of Dorothy" drag shows at 5 and 7 p.m. Aug. 19, 2023. Each set will feature live drag and singing performances, starting at the Cayuga Museum and ending at the Schweinfurth. Tickets are $40 and reservations are required at myartcenter.org or cayugamuseum.org.