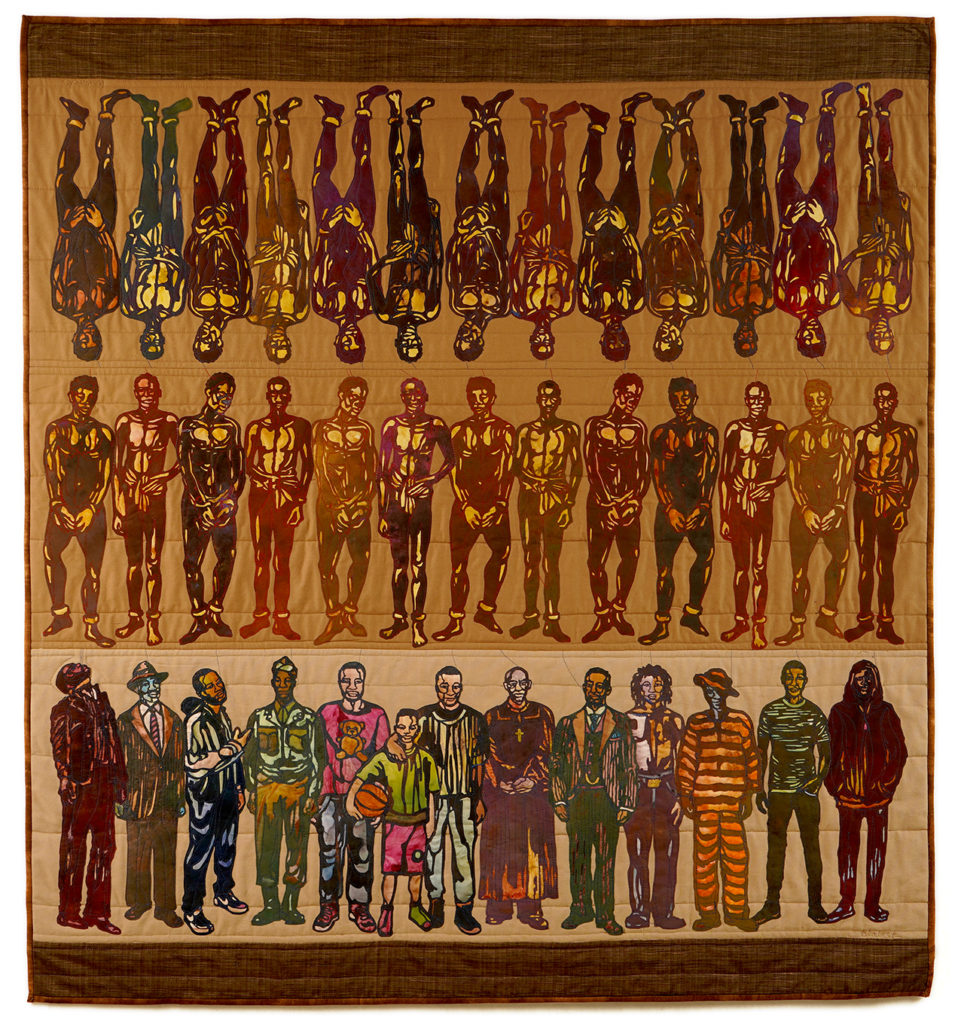 Oct. 15, 2020, to Jan. 10, 2021
Quilts=Art=Quilts is an annual juried quilt exhibition that has been held since the art center's opening in 1981. Each year the exhibit attracts competitive entries from some of the world's leading quilt makers and fiber artists. Juried by Valerie Goodwin and Mary Lou Alexander, Quilts=Art=Quilts 2020 features 71 quilts from 58 national and international artists. The exhibit opens Oct. 15 and closes Jan. 10.
Jurors
Valerie S. Goodwin is a mixed media fiber artist and architect whose works of fine art are included in museum and private collections. Most of her work is inspired by a love of aerial views of landscapes and cities. Many of her quilts are based on maps.
Goodwin's art has moved through various stages from traditional quilting to an interest in abstract expressionism and, currently it is inspired by real and imaginary landscapes and cities. In some cases, her work shows an architectural sense of space with an archaeological perspective. In others, the network of the city and its built form is more prominent. These compositions work on several levels, from close up and far away as if one was looking at it from above.
She received degrees in architecture from Washington University and Yale University. Her award-winning work has been widely published and exhibited. She also lectures and gives workshops nationally and internationally. Currently she teaches architectural design at Florida A&M University.
Fiber artist Mary Lou Alexander's two great passions are art and nature. She grew up in Northeast Ohio playing along the streams and paths of a nearby forest, drawing, and stitching together fabric scraps in her Godmother's sewing room. She studied art and art history in college, but spent much of her adult life as a biologist, examining the ecology and reproductive behavior of small South American monkeys. She earned a PhD from Kent State University in Biological Anthropology, and holds an international Diploma from the Royal Botanic Gardens at Kew in London. She taught at Northeastern Ohio College of Medicine and in the Department of Biological Sciences at Kent State University.
In mid-career she resigned her tenured professorship to return to art and stitching full time. Over the year she had mounted 5 solo exhibitions in museums and galleries, and she has been represented in many juried exhibitions in the US and Europe including Artist as Quiltmaker, Quilt National, Quilts=Art=Quilts, Best of Ohio, Form Not Function, Focus Fiber, and others. Her work was invited to be included in Color Improvisations, which toured Europe in 2010 through 2013 in the Inaugural Exhibition at Edison Price Gallery in New York City and Material Pulses, which is touring the Us through 2023. Her quilts are part of many private and public collections including Marbaum Collection at the San Joe Museum of Quilts and Textiles. She has curated several exhibitions for the Butler Institute of American Art and written reviews for Fiber Arts Magazine. Natural phenomena remain a major inspiration for her work.
Find out who won awards by watching this video:
Meet some of our exhibiting artists by watching Quilts=Art=Quilts Artist Talks. More talks will be posted in the coming weeks.
Thank you to our exhibit sponsors!

Artist List
Margaret Abramshe
Geneviève Attinger
Bobbi Baugh
Deb Berkebile
Margaret Black
Ellen Blalock
Holly Brackmann
Peggy Brown
Betty Busby
Libby Cerullo
Shinhee Chin
Gregory Climer
Tyrus Clutter
Holly Cole
Shannon Conley
Petra Fallaux
Victoria Findlay Wolfe
Diana Fox
Kerri Green
Debbie Grifka
Carol Grotrian
Betty Hahn
Barbara Oliver Hartman
Jeanne Hewell-Chambers
Virginia Holloway
Judy Hooworth
Beth Porter Johnson
Noel Keith
Judy Kirpich
Elke Klein
Karen Krieger
Denise Labadie
Judy Langille
Susan Lapham
Niraja Lorenz
Valerie Maser-Flanagan
Alicia Merrett
Kestrel Michaud
Susie Monday
Kathy Nida
Frauke Palmer
Julia Pfaff
Heather Pregger
Wen Redmond
Denise Roberts
Irene Roderick
Barbara Schulman
Karen Schulz
Candace Hackett Shively
Carolyn Skei
Brenda Gael Smith
Gerri Spilka
Lee Sproul
Victoria van der Laan
Cynthia Vogt
Marianne Williamson
Click here to download a list of all the artwork in the exhibition.