March 26 to May 15, 2022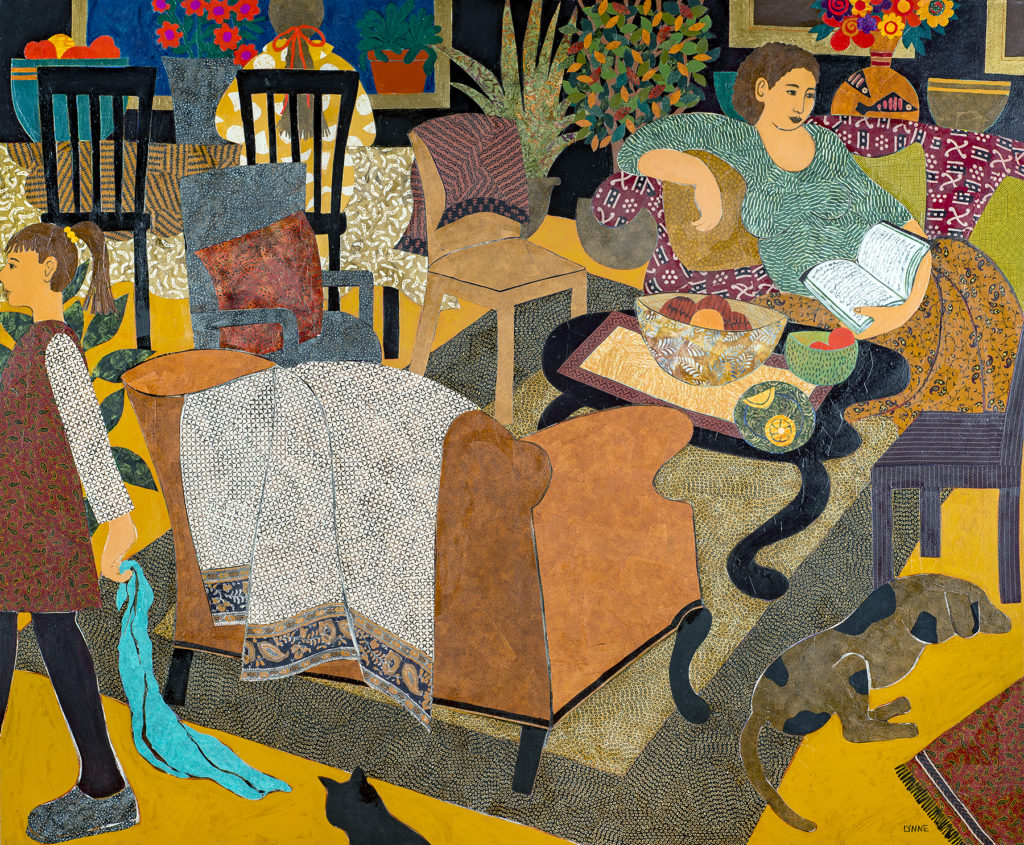 Made in NY is the Schweinfurth Art Center's annual juried exhibit of work made by artists who live in New York State.
The exhibit will open March 26, 2022, with 77 pieces by 70 artists. The exhibit features artworks of all media including painting, photography, fiber art, ceramics, sculpture, and more. This is the 26th year the Art Center has held the exhibit.
Congratulations to our prize winners!
Best in Show: Susan Hoffer, Saving the Planet's Biodiversity "One Turtle at a Time"
The Susan E. Spencer First Prize: Gypsy Schindler, I shall not be broken
Juror's Choice: Charlete Bluto, Gas Mask Beauty Mask
Juror's Choice: Lynne Feldman, Sunday Evening at Home
Juror's Choice: Sarah Cross, Collecting Loss No. 1
Take a virtual tour
Jurors
Ellen M. Blalock is a narrative artist and documentarian working in several mediums: photography, film/video, quilting, and drawing. She believes her job is to be a conduit to listen and tell stories of the ignored and underrepresented. She is particularly interested in the African diaspora and female identity and power.
Blalock has taught art history and studio arts in Central New York at Syracuse University and SUNY Oswego and Onondaga Community College. She was a visiting assistant professor in Georgia at Georgia Southern University and Georgia College & State University.
She has received several awards, grants, fellowships and residencies. resently she was SUNY Oswego's first artist-in-residence. She received several CNYArts and NYSCA art grants. She also received several NYS Associated Press awards in journalism during her two decades as a multimedia journalist. Originally from Philadelphia, PA, Blalock lives in Syracuse, NY. She has a B.F.A. from Temple University and M.F.A. from Syracuse University.
Gina Murtagh is an artist, educator and freelance curator with a special interest in domestic space, ritual, and public art; her career has included teaching – most recently photo history as an adjunct at Pratt MWP ; 16 years experience as an arts administrator at LightWork/Community Darkrooms in Syracuse, Sculpture Space, in Utica and as the Artistic Director at the CNY Arts in Ed program. She has an MFA in Photo and Media Arts; her photos, videos, and installations and have been exhibited on the east coast and she is active in community development and collaboration through the arts.
Kim Waale, a sculptor and professor of art, has taught art at Cazenovia College since 1988. She has been an artist-in-residence in Wales, Spain, Macedonia, Ecuador and the United States. She received grants, fellowships and residencies from organizations including I-Park (Environmental Art), Sculpture Space, Light Work, International Studio Program (NYC), Saltonstall Foundation, Harlech Biennial (Wales), A Solaina de Piloño (Spain) and the Millay Colony. She has exhibited at museums/galleries such as Plas Glyn-y-Weddw (Wales), the Everson Museum (Syracuse), Hallwalls Contemporary Art Center (Buffalo), A. I. R. Gallery (NYC), McCormick Freedom Museum (Chicago), Housatonic Museum (CT), Memorial Art Gallery (Rochester, NY), and in Bulgaria, Macedonia and Spain. She is currently teaching studio art and art history courses and is chair of the Art and Design program.
Participating Artists
Charlene Bluto
Zara Bronwyn Davis
Katlyn Brumfield
Phyllis Bryce Ely
Patricia Capaldi
Eva Capobianco
Stephen Clark
Wayne Claypatch
Tonia Cowan
Sarah Cross
Sara DiDonato
David Dorsey
David D'Ostilio
Carrie Dugan
Lynne Feldman
Kate Finneran
Ronald Gonzalez
Hall Groat II
Lindsey Guile
Erica Hart
Lee Hoag
Judy Hodge
Susan Hoffer
Robert Kalman
Nancy Modlin Katz
Angela Kehlenbeck
Natalya Khorover
Dale Klein
James Leach
Chris Losee
Bailey Maier
Susan Mandl
Ruth Manning
Laura Martinez-Bianco
Pam McLaughlin
Maria Driscoll McMahon
Keith Millman
Robert Morgan
Robert Niedzwiecki
Lynn Northrop
Rob O'Neil
Barbara Page
Pat Pauly
Paul Pearce
Sofía Luz Pérez
Judith Plotner
Lin Price
Beverly Rafferty
Bonnie Ralston
Luanne Redeye
Adrienne Rogers
Kari Ganoung Ruiz
Patricia Russotti
Penny Santy
Karen Sardisco
Gypsy Schindler
Marcie Schwartzman
James Skvarch
Sherry Spann Allen
June Szabo
Kate Timm
June Tyler
Natalie Wargin
Susan Weisend
Anita Welych
Donalee Wesley
Gary L. Wolfe
Beckett Wood
Nancy Wu and Jean Davis
Jaysen Zhang
Thank you to our exhibit sponsor!