Underlying Factors: Artists Inspired by Geology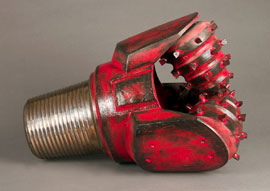 Sept. 1 to Oct. 15, 2017

Fall exhibit featuring sculptures and works on paper by Geoffrey Booras, Laura Moriarty, and Lauren Rosenthal.
Geoffrey Booras is a sculptor whose work examines the relationships between science, technology and nature. His work includes ceramic interpretations of massive drill bits used in oil and gas exploration and mining petrochemicals. He also experiments with using actual Marcellus Shale as a medium, speaking to the overuse of fossil fuels in the context of geologic time.
Laura Moriarty makes process-driven sculptural paintings and sculptures using an encaustic (wax) medium whose forms, colors, textures and patterns result from the same processes that shape and reshape the earth: heating and cooling, erosion, subduction, friction, enfolding, weathering, slippage.
Lauren Rosenthal's prints, drawings, and mixed media works interpret hydrological data created by cutting away layers of ground, evoking the process by which rivers mark the landscape. Map-like, the work exposes the relationship between rivers and the built environment we have created, and the resulting paths for these waterways.