Tyrone Johnson-Neuland finds balance between work and art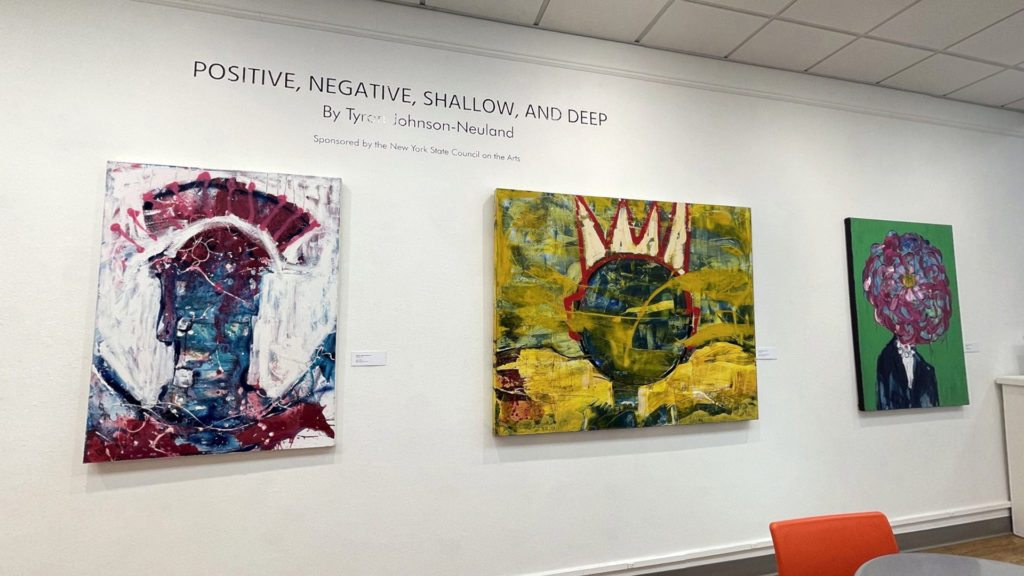 AUBURN, NY (March 21, 2023) – Artist Tyrone Johnson-Neuland has come a long way from his childhood, when he ordered information on how to be an artist from the ads in TV Guide magazine. He is this year's first Emerging Artist to be featured in both the Schweinfurth Art Center and Cayuga Museum of History & Art from March 25 through May 28, 2023.
At age 55, he isn't the prototypical emerging artist, but his life has taken many twists and turns along the way. After earning his bachelor's in fine arts from Syracuse University, he moved to New York City and began working for his brother in the telecommunications industry.
"I figured what the heck, here's my chance to live where I always wanted and not have to be a starving artist while creating art as time allowed," he said. "Needless to say, with youth, money in my pocket, working eight hours a day or night, and NYC nightlife and weekends, not much time was spent on creating art."
But the experience he gained working in telecommunications in New York City and Chicago paved his way to SUNY Oswego. Shortly after marrying his wife, Kristyn, he accepted a telecommunication tech job at the college so he could earn a master's degree in illustration and "finally get that real art job."
"At first I thought I would go into advertising, but soon found out that I enjoyed drawing more than creating slogans and some of the salesmanship needed for the ad business," Johnson-Neuland said.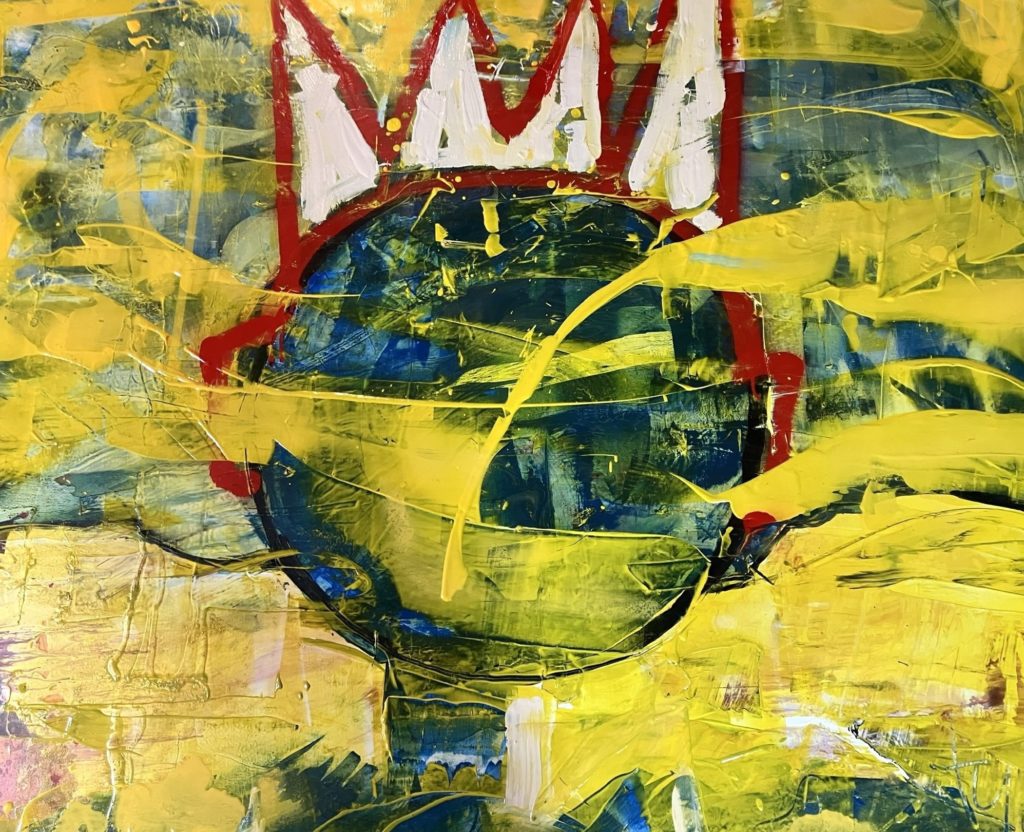 So he continued to work at SUNY Oswego, and began getting promotions. He and his wife bought a house and began raising children. "Art still remained a focus, sometimes more and sometimes less," he said. "I tried to stay relevant by doing a few summer festivals and would apply to gallery shows when I could."
His time opened up after his youngest child graduated from high school in 2019 and he began devoting all his free time to his art. In 2020, he was awarded a CNY Arts grant to create "Art Attack on Cyber," an exhibit at SUNY Oswego aimed at drawing attention to cybersecurity awareness.
"It has been many years that I have struggled to find a balance between my love for art and having a professional life in the IT field," Johnson-Neuland said in his application to CNY Arts. "I believe I have a great opportunity here to merge the two into an exciting exhibit that will reach a large audience and aid in promoting awareness and the importance of staying vigilant in protecting oneself in the digital world."
In his upcoming exhibit at the Schweinfurth and Cayuga Museum, "Positive, Negative, Shallow, and Deep," Johnson-Neuland explores spatial, social, and self awareness.
"These works reflect my search for clarity within my existence and the world today," he said. "A mix of acrylic, latex, and aerosol paints aid in my depiction of an internal battle between the chaotic vs the introspective."
His paintings at the Cayuga Museum are inspired by trips to Panama that he and his wife took the past two years. His expressionistic works explore the country's diverse urban, rural, and coastal landscapes. The couple hopes to retire there in the future, where he plans to continue creating art.
"I create to express my thoughts in a manner that oftentimes I find hard to express verbally," Johnson-Neuland said. "Sometimes it is as simple as a color or lighting on an object that sparks a mood and a need to put paint down. It's the energy of angst vs. passion and the beauty of color that I want the viewers to feel. As long as the works spark something within, then I communicated to them."
This exhibit is sponsored in part by the New York State Council on the Arts with the support of the Office of the Governor and the New York State Legislature.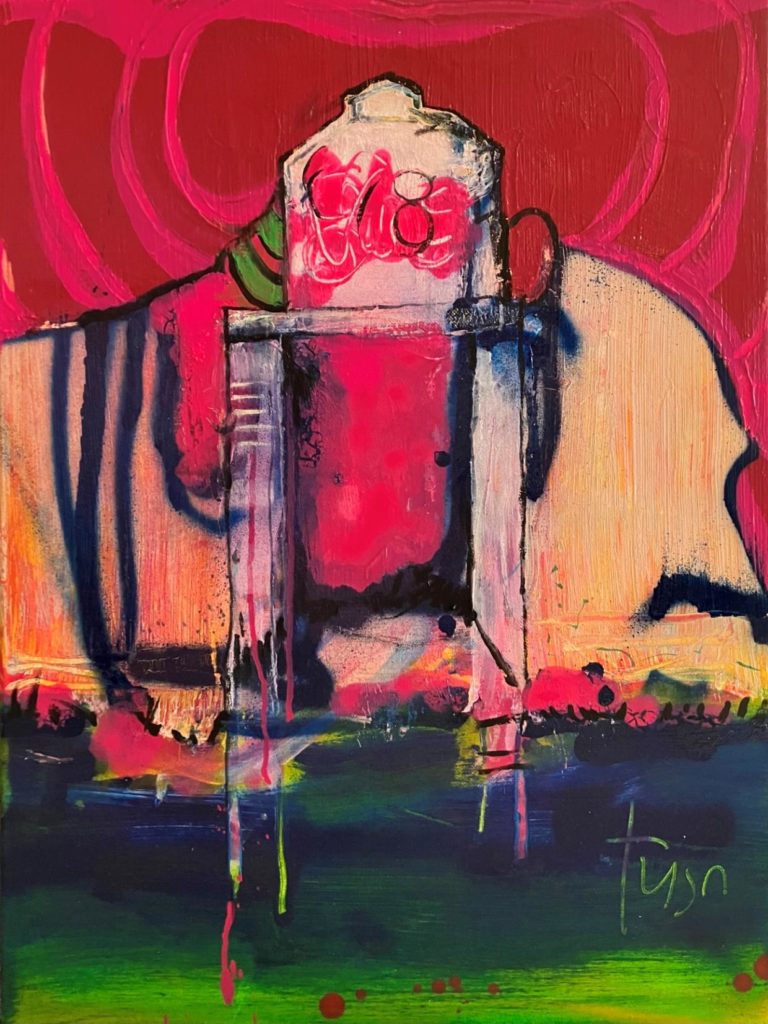 If you go …
WHAT: "Positive, Negative, Shallow, and Deep" exhibition by artist Tyrone Johnson-Neuland
WHEN: March 25 to May 28, 2023
WHERE: Schweinfurth Art Center, 205 Genesee St., Auburn, and Cayuga Museum of History & Art, 203 Genesee St., Auburn
OPENING: 5 to 8 p.m. Saturday, March 25, 2023
ARTIST TALK: 5:30 p.m. April 7, 2023, at the Schweinfurth
SCHWEINFURTH GALLERY HOURS: 10 a.m. to 5 p.m. Wednesdays through Saturdays and 1 to 5 p.m. Sundays
CAYUGA MUSEUM GALLERY HOURS: 11 a.m. to 4 p.m. Wednesdays through Saturdays
ALSO ON DISPLAY: "Made in NY 2023," a juried exhibit of New York State artists, and "Triggered, Truth & Transformation" exhibition by artist Theda Sandiford
COST: Opening and Artist Talk are free; admission to the Schweinfurth $10 per person; joint tickets to both facilities are $15 per person