Traditions Made Modern: Wedding Ring Quilts by Victoria Findlay Wolfe
Oct. 31, 2015, to Jan. 3, 2016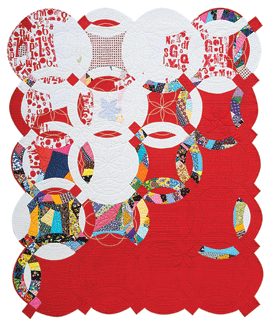 A special exhibit of quilts by Victoria Findlay Wolfe.
Victoria Findlay Wolfe made a splash in the quilt world with her Best of Show win at Modern Quilting's first QuiltCon Conference in 2013 for her quilt Double Edged Love, a modern interpretation of a traditional Double Wedding Ring quilt. The quilt pictured on the left is Greatest Possible Trust, 2013.
The Wall Street Journal called her a "Mod-Quilt Celebrity." Rooted in tradition, her quilts are inspired by her grandmother's quilts and childhood memories. This series of Double Wedding Ring quilts displays Victoria's distinctively modern take on the classic quilt pattern. With her great instincts for pattern, design and color, and a lot of creative license, she has created a bold collection of quilts that strikes a balance between modern and traditional. One can imagine them being equally at home on the wall or on the bed.
Join Victoria for a special workshop, Floating Four Ring Double Wedding Quilt, at the Art Center, on December 5 & 6.