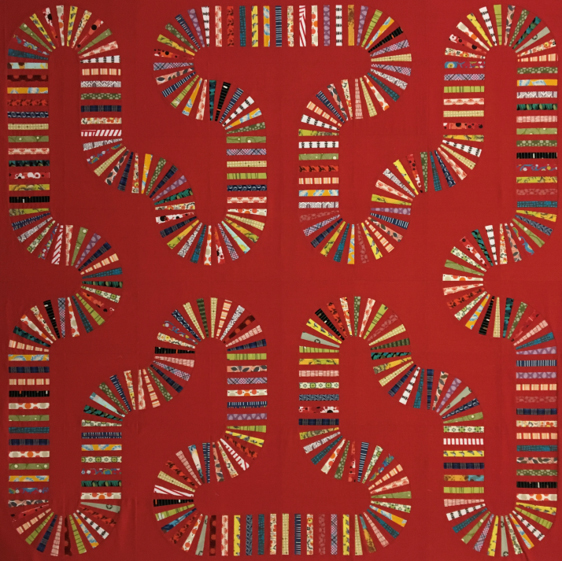 June 12 to Aug. 7, 2021
Sarah Bond is known by some for her "modern quilts" a term broadly used to describe a genre of quilt making that's inspired by modern design. In a visual sense, many modern quilts feature bold colors, are structured on a grid, make use of negative space, and use traditional patterns in new, inventive ways. While Bond's work may visually fall neatly under this umbrella, her mode of operation is rooted deeply in her familial past – where for Bond, the act of quilting is the continuation of a legacy.
Bond traces her quilt making heritage to several foremothers. Her great-great-grandmother, Jane Arthur Bond, was born in 1828 as a slave. Her great-grandmother Louvinia Clarkson Cleckley was also born enslaved in 1858. They, along with great-grandmother Anna Gibson Bond, were all quilters. In piecing together the Bond family history, the quilts made by these women act as artifacts in the historical record. They fill in holes missing from the written documents. Their lives were studies in strength and perseverance, and their quilts show her careful craftsmanship, design style, and color sensibility.
In her exhibition Threads Across Time, Bond puts her work in close juxtaposition to her foremothers' quilts by echoing patterns and reimagining their structures. With woven stars from Jane, blocked strip pieces from Anna, and lone stars from Louvinia, Bond uses her practice to awaken ancestral connections. Did she inherit Jane's eye for color? Anna's sense of composition? Louivina's bold style? Is there something in her blood that moved her to this path and will continue to sweep across generations?
Bond's quilts are a visual link to her familial legacy. They are a record of a family reaching beyond slavery and across time to arrive at a place where the "modern" stands on the shoulders of the "traditional" and an artist stands shoulder to shoulder with the women who came before her.
Bond gave a lecture via Zoom about her exhibit on Saturday, June 19, at 6pm.
Bond will also be teaching a two-day online class, "Making Modern Medallions," July 31 to Aug. 1, 2021. Link here to register for the class.