Text Layer, Shape Shifter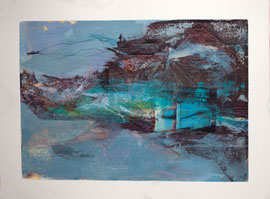 June 3 to Aug. 20, 2017
Exhibit in Gallery Julius of mixed media artwork by artist Karen Frutiger.
"My process is improvisational," explains Frutiger, "I work in layers; usually beginning with paint scraped across the paper, followed by random marks, collage and more paint. Obliteration, dissolution, and uncovering are important parts of my process. I am particularly attracted to hand writing, distressed paper and my own photographs of obsolete objects and industrial decay. It is interesting to me to see what emerges in the final piece; echoes of other voices and concerns, forgotten landscapes, and subtle reminders of our industrial past."
Karen Frutiger lives and works in Rochester, New York. The image on the left is "Flood," 2016.