Schweinfurth's annual student art exhibit celebrates more than talent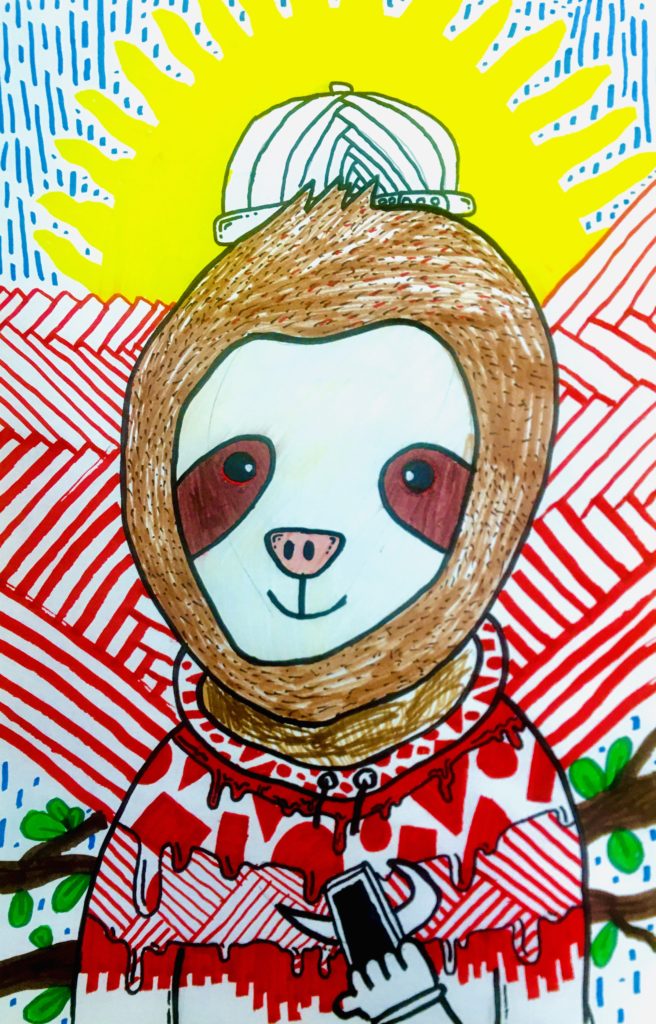 AUBURN, NY (Feb. 2, 2023) — Charlie Carroll of Skaneateles is pretty advanced for a budding artist. His art teacher, Chelsea Hamilton, has recommended his piece for inclusion in "Both Ends of the Rainbow," an exhibition at the Schweinfurth Art Center. He has an Instagram account that features his work. And he has sold his artwork at Art in the Park, an annual event in Auburn's Hoopes Park.
Oh, and one more thing: He's a fourth-grader.
"He loves art and certainly has his own style that he puts into all of his work," Hamilton said. "It's especially notable in the drawing submitted to the (exhibition), his personified sloth."
This is the first year that Carroll has participated in "Both Ends of the Rainbow," which opens at 1 p.m. Sunday, Feb. 5, 2023, at the Auburn art center. The annual show features artwork from students in kindergarten through 12th grade and senior citizens who are members of the Schweinfurth or live in Cayuga County. The show is accompanied by "Three Lakes Sampler," an exhibit of selected artwork from the Cayuga-Onondaga BOCES' Talented and Gifted Program.
Being in the exhibition "makes me feel really awesome because I like that my art will be seen by everybody," Carroll said, who added that he wants to make art his profession when he grows up.
Cari Parkman, art teacher at Auburn High School, said each year a handful of her students go on to study art in college, working toward careers in graphic design, illustration, interior design, and architecture. "Some are even working towards becoming art teachers and in their masters programs right now," she said.
Even students who don't necessarily plan to make art their career benefit from inclusion in art shows like "Both Ends of the Rainbow," area art teachers say.
"Whenever student artwork is on display, the students feel a sense of pride that their work is being acknowledged for its originality and imaginative approach," said Tim Amory, who teaches at Southern Cayuga Middle and High School. "A student is always appreciative and proud when they are told their work has been chosen for the show."
Parkman added that school art programs also benefit from the exhibition. "Having an outlet to display student work not only supports our students' successes and efforts, but also provides justification for our programs," she said. "We have always had to fight to keep the arts in schools, and they are still often the first electives to be sacrificed."
The National Endowment for the Arts cites research that participation in the arts can support the social and emotional learning needs of students, including teaching emotional regulation and compassion for others. They can also provide an outlet for students to process their emotions following trauma so they can begin the healing process and build resiliency.
A 2019 survey from the National Association of Colleges and Employers showed that employers are interested in hiring professionals with skills that can be strengthened through participation in the arts, such as written communication, problem-solving, teamwork, and taking initiative.
Hamilton, who teaches at Waterman Primary and State Street Intermediate schools in Skaneateles, said most students enjoy art class because it gives them as chance to explore their creativity.
"It is amazing to watch a student's face light up when you tell them their artwork is hanging up in the hall or going to be displayed in an art show," she said. "I have seen how this has shifted their efforts in art and how much more willing they are to open up and share ideas."
Parkman echoed Hamilton's experience.
"Some of the greatest responses when students are given their congratulatory letter for being chosen to display in the 'Both Ends' exhibit are those of surprise because they weren't aware that they had the talent to carry out a great piece, let alone be chosen to have it hung in a gallery," Parkman said. "That 'ah-ha' moment when students gain confidence in their abilities has always been the best part of teaching."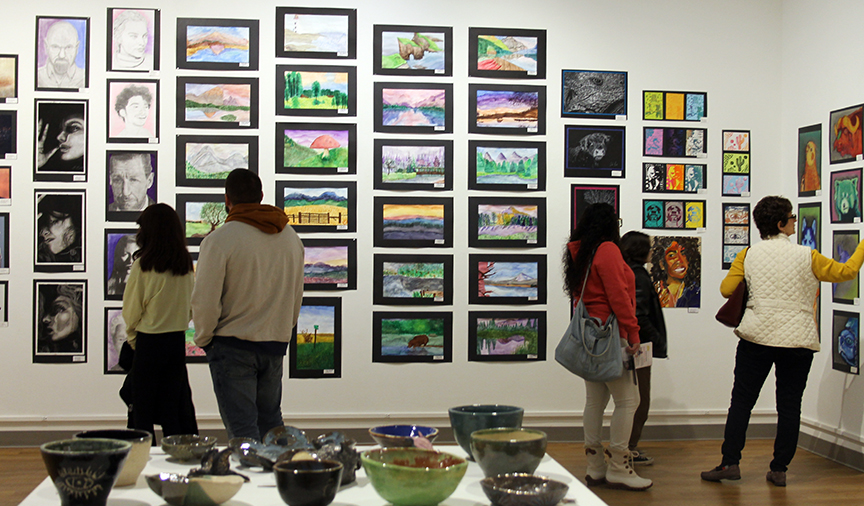 Participating Schools
A.J. Smith Elementary School, Union Springs
Auburn High School
Auburn Junior High School
Casey Park Elementary School, Auburn
Cato-Meridian Elementary School
Cato-Meridian Junior-Senior High School
Creative Minds Montessori School, Auburn
Emily Howland Elementary School, Aurora
Genesee Elementary School, Auburn
Herman Avenue Elementary School, Auburn
Millard Fillmore Elementary, Moravia
Moravia Middle and High School
Owasco Elementary School, Auburn
Peachtown Elementary School, Aurora
Seward Elementary School, Auburn
Skaneateles Middle School
Skaneateles High School
Southern Cayuga Junior-Senior High School, Aurora
State Street Intermediate School, Skaneateles
Union Springs Middle School
Waterman Primary School, Skaneateles
Weedsport Elementary and Junior-Senior High School