Schweinfurth hosts two events for Pride Week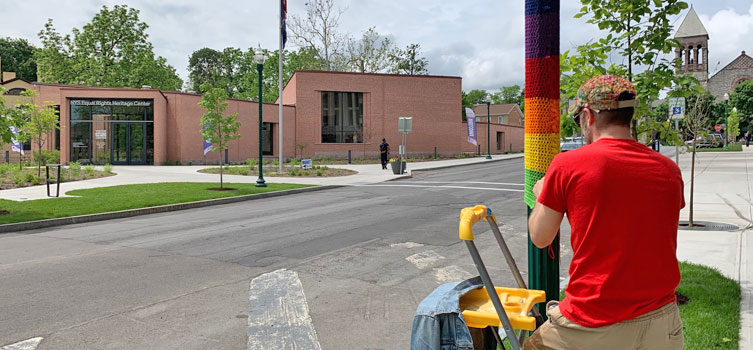 The Schweinfurth Art Center is pleased to be participating in Auburn's Pride Week celebration with two events: a yarn bombing of light posts and hosting documentary screenings and Q&As with Erin Davies, the director of "Fagbug" and "Fagbug Nation."
Thirteen knitters and crocheters made rainbow banners that were sewn onto light poles in front of the art center, at 205 Genesee St., Auburn, and the New York State Equal Rights Heritage Center (NYS ERHC), in downtown Auburn, during the week of June 17. The Schweinfurth would like to thank volunteers Sylvia Sue Best, James Caito, Cheryl DeBois, Cindy Dempsey, Diane deRoos, Kasha Fletcher, Mary Beth Haswell, Jamie Rathbone, Nikki Schwarz, Sally Stormon. Jade Dowd Vanderberg, and Marilee Williams.
The Schweinfurth is also hosting the showing of two documentaries by director Erin Davies, followed by question-and-answer sessions with Davies, at 1 and 7 p.m. Friday, July 28, at Auburn Public Theater. The documentaries, "Fagbug" and "Fagbug Nation," track the journey Davies took to all 50 states after her Volkswagon Beetle was vandalized in the early 2000s because it sported a rainbow sticker.
The events are part of Auburn NY 2019 Pride, which is supported by a Market NY grant received in 2018 and features NYS Equal Rights Heritage Center artist-in-residence Blake Chamberlain. Chamberlain's "Trans American History" portrait series is on display at the Equal Rights Heritage Center through June 30. In addition, Seward House Museum, Schweinfurth Art Center, Cayuga Museum of History and Art, Auburn Public Theater, and Westminster Presbyterian Church are also exhibiting Chamberlain's art.
The following events are also part of Auburn NY 2019 Pride celebration:
Monday, June 24; 6 p.m.:
Film screening of Stonewall Uprising: The Year That Changed America (83 minutes) documentary at Seymour Public Library to learn about the 1969 police raid that lead to the Stonewall riots (Free; open to public)
Tuesday, June 25; 7 p.m.:
"Meet Your LGBTQ+ Neighbors" public panel at Auburn Public Theater with featured panelists Lithgow Osborne, Blake Chamberlain, Dr. Nina Wright, William Tentiy, Lorraine Austin, Aiden Patch, among other community members; moderated by Rev. Patrick Heery (Free; open to public)
Wednesday, June 26; 7 p.m.:
"Lift Every Voice: Interfaith Pride Service" featuring musical selections by the Syracuse Gay and Lesbian Chorus and spoken testimony and prayer by faith leaders at Westminster Presbyterian Church; reception to follow (Free; open to public)
Thursday, June 27; 7 p.m.:
Seward House Museum Directors of Education and Collections will discuss "Charlotte Cushman: Symbol of an Age" at the NYS ERHC. A renowned actress of her time, Cushman was also a Seward family friend and early figure in LGTBQ+ history. Jeff Ludwig and Matt Mac Vittie will explore these stories as well as sexuality in the 19th-century and the complicated ways Cushman subverted "traditional" roles in a Victorian age often associated with repression. (Free; open to public)
Friday, June 28; 1 p.m. and 7 p.m.:
Schweinfurth Art Center presents filmmaker Erin Davies Q&A and screening of the documentary "Fagbug" (2009) at 1 p.m. and follow-up documentary "Fagbug Nation" (2014) at 7 p.m. at Auburn Public Theater. Watch as this Volkswagen Beetle vandalized in a hate crime in Albany obtains its rainbow paint job and serves as a catalyst on a road trip to equality throughout all 50 states. (Free; open to public)
Saturday, June 29:
– 9 a.m. to 2 p.m. Downtown Auburn Saturday Market and LGBTQ+ Pride Rainbow Rally (12 p.m.) at NYS ERHC with artist Blake Chamberlain live painting on site, entertainment by singer/songwriter CC Ryder and the Diana Jacobs Band, noted speakers, face painting, and LGBTQ+-themed vendors and merchandise, plus more surprises (Free; open to public)
– 3 p.m. "Following Our Rainbow: Parents On Supporting LGBTQ+ Children" forum with panelists Kim and Chris Patch, Julianne Sanders, Lauren Webb, and moderated by William Tenity at Cayuga Museum of History and Art's Carriage House Theater (Free; open to public)
– 8 p.m. Drag Show hosted by Samantha Vega with performances by Cherry Blasé, Aziza Bijoü, Jenna Jacobs, Celeste Lerue, Gloria Schaaft, Lala Savage, Ginger Diamond, and Natasha Champagne, plus DJ Dance Party at Auburn Public Theater (Tickets; at door)
Visitors wanting to learn more about the Stonewall Inn uprising can visit the NYS ERHC during the month of June for focused tours on the 1969 event, including actual photographs and printed portraits of key gay rights activists like Marsha P. Johnson, who demonstrated at Stonewall.
Support provided by Market NY through I LOVE NY/ New York State's Division of Tourism as a part of the Regional Economic Development Council awards. Other Auburn NY Pride 2019 sponsors include the Great New York State Fair, History's Hometown, the City of Auburn, and the Osborne Memorial Association.