Schweinfurth Art Center opens with Made in NY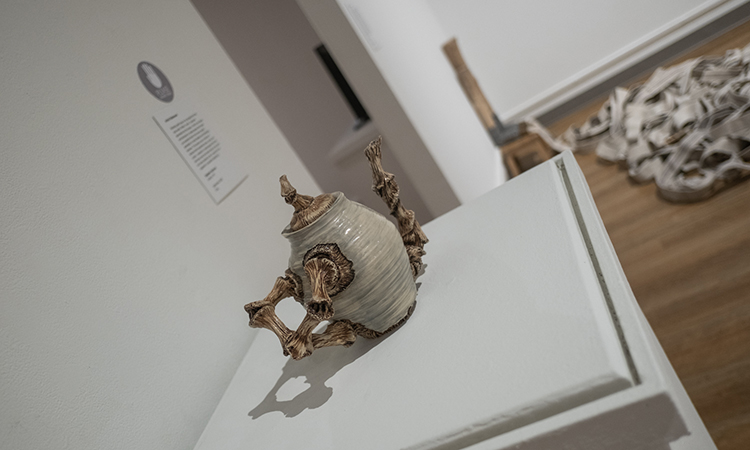 The Schweinfurth Art Center will be reopening Aug. 7, 2020, with the opening of "Made in NY," the center's annual juried exhibition that features work by artists who live in New York State. The exhibit will be on display through Sept. 26, 2020.
"We are so excited that we were still able to have our annual 'Made in NY' exhibit," said Schweinfurth Program Director Davana Robedee. "It's a staff favorite every year because it showcases local talent and contemporary innovation in a variety of media."
This exhibition features all media, including photography, sculpture, ceramics, painting, drawing, fiber, installation, and video. Executive Director Donna Lamb will announce the winners of prizes, including Best of Show, during a Zoom session for artists at 4:30 p.m. Aug. 7.
Jurors for this year's exhibit are Dewitt Godfrey, professor of Art and Art History at Colgate University, and Jaroslava Prihodova, director of the Dowd Gallery at SUNY Cortland. The jurors reviewed 330 artworks submitted by 174 artists and selected 78 works for the exhibit.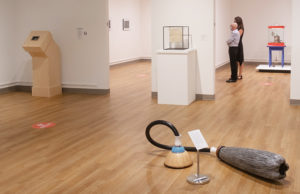 Due to COVID-19 crowd restrictions, the art center will not hold a public opening reception. Instead, exhibiting artists are invited to make a reservation to view the exhibit with their families and friends between 5 and 8 p.m. Friday, Aug. 7, or between 10 a.m. and 5 p.m. Saturday, Aug. 8.
There is a limit of 20 people in the gallery at one time. No refreshments will be served.
"Made in NY" will be open to the public beginning the following Tuesday, Aug. 11. The art center will be open 10 to 11 a.m. Tuesdays through Saturdays for members who make reservations in advance and 11 a.m. to 5 p.m. on the same days for everyone. To make a reservation, call the art center at 315-255-1553.
Visitors are required to wear a mask to enter the Schweinfurth, and the art center will have hand-sanitizing stations available. Click here for complete information on hours and COVID-19 restrictions.
This year's artists are:
Jim Allen of Millbrook; "Inner Space 15/16," 2019
Peter Allen of Syracuse; "Erin, July 2019," 2019
Robin Arnold of New Paltz; "Divers" and "Flotsam," both from 2019
Patricia Bacon of Lyons; "Reflection," 2019
Loren Bartnicke of Auburn; Gooey Feelings," 2020
Zea Beckwith of Unadilla; "Shoreside," 2020, and "Sitting Room," 2019
Marna Bell of Syracuse; "Mementos 2," 2018
Wesley Bernard of Oneonta; "Blue Ribbon Winner Carter Stanton, Otsego County Fair," 2019
Paul Brandwein of Rochester; "String Theory," 2020
Nancy Callahan of Gilbertsville; "Choose Your Poison," 2017
Stephen Carlson of Syracuse; "Table" and "Table and Chair," both from 2020
Eunsuh Choi of Rochester; "Dreams III," 2017
Greg Cost of New Hartford; "Centered Landscape," 2019
Sarah Cross of Chittenango; Between the Leaves No. 2," 2017
Willson Summer of Fayetteville; "Snow Piles #21," 2020
David Dorsey of Pittsford; "Breakfast with Golden Raspberries," 2017
Connie Ehindero of Rochester; Unbroken Beneath You," 2019
Benjamin Entner of Rochester; "Torso of Herakles," 2020
Mary Beth Fiorentino of Cazenovia; "Clustered," 2018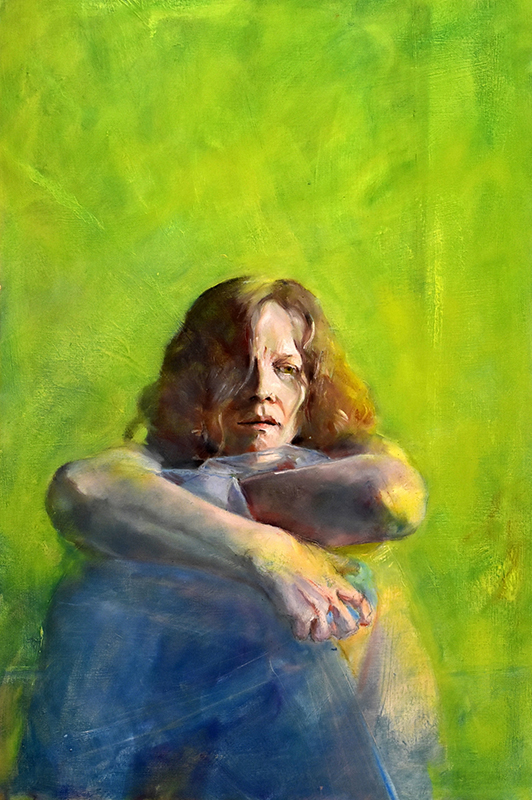 John Fitzsimmons of Syracuse; "In the Dear," 2019
Faithanne Flesher of Syracuse; 'Bone and Root," 2020
Darlene Gold of Ithaca; "Dark House 1" and "Dark House 2," both from 2020
Julia Graziano of Manlius; "Exercise in Collage III" and "Exercise in Collage IV," both from 2019
Jennifer Hecker of Brockport; "La Cage a Eau #1," 2020
Lee Hoag of Rochester; "Late Shift," 2019, and "Tell Tale," 2018
Joyce Homan of Syracuse; "The Raft," 2020
George Afedzi Hughes of Buffalo; "Patron," 2019
Cheryl Hutchinson of Syracuse; "Programming," 2019
Everett Kane of New York City; "Untitled," 2019
Shirley Kelley of Penfield; "Set of Two Story Plates," 2020
William Keyser of Victor; "Half Pigeon-Blue" and "Meander," both from 2019
Joseph Kirchner of Binghamton; "Islands," 2019
Tom Kredo of Rochester; "Nightwatch" and "Outpost," both from 2019
Susan Larkin of Brooktondale; "Woods Path," 2020
Barry Lobdell of Saranac Lake; "Pond," 2019
Lawrence Mannato of Gorham; "Then Your Eyes Shall Be Opened," 2019
Claudine Metrick of Barneveld; "Three Relics for Jane,"2020
Joy Muller-McCoola of Glens Falls; "Funeral Cairn," 2020
Stewart Nachmias of Brooklyn; "Breathe," 2019
David Neve of Penn Yan; "Save the Hedgerows," 2019
Richard Nolan of Johnson City; Boa," 2020
Colleen O'Hara of Otego; "Breezy," 2019
Cindi O'Mara of East Amherst; "Mum Three," 2019
Paul Pearce of Mattydale; "Trench Angel," 2018
Steven Pearlman of DeWitt, "Monemvasia Greece," 2017
Shirley Penman of Auburn; "Jubilation," 2019
Jen Pepper of Eaton; "Love Letters from Art History" and "Soft Stripe," both from 2020
Terry Plater of Ithaca; "Landscape Dyptich, France," 2019
Judith Plotner of Gloversville; "A New York Conversation," 2018
Rose Popper of Pendleton; "Fluxion," 2017
Howard Ptaszek of Brooklyn; "Cube 1," 2017
Daniel Rothenberg of Pittsford; "Me and My Mentor," 2018
Penny Santy of Syracuse; "Dancers," 2020
Jesse Eric Schmidt of Fayetteville; "Eavesdropping Film Shapes," 2019
Gary Sczerbaniewicz of Buffalo; "Neil Before Zod: Anteroom (For Karl Wolfe) Periscope," 2019
Eric Shute of Marcellus; "Long Walk to Freedom," 2019
Amy Silberkleit of Mount Vernon; "Woods Road, March Snow," 2020
Stephen Spinner of Auburn; "Sphenoid," 2020
William Stephens of Honeoye Falls; "Departure, Coming Home" and "Destiny, Coming Home," both from 2020
Michele Vari of Newark; "Untitled," 2019
Deborah Walsh of Liverpool; "Transparent," 2019
Lisa Weinblatt of Bayside, "School Lunch 18," 2019
Gary L. Wolfe of Kenmore; "01001011 01010100" and "01010111 01001111," both from 2019
Tinwai Wong of Brooklyn, "Discourse," 2015
Beckett Wood of Rochester; "Furryosa, the Sequel: Out Here, Everything Purrs" and "Sometimes, Just One Second," both from 2020