Renowned quilt maker Nancy Crow to show her work at Schweinfurth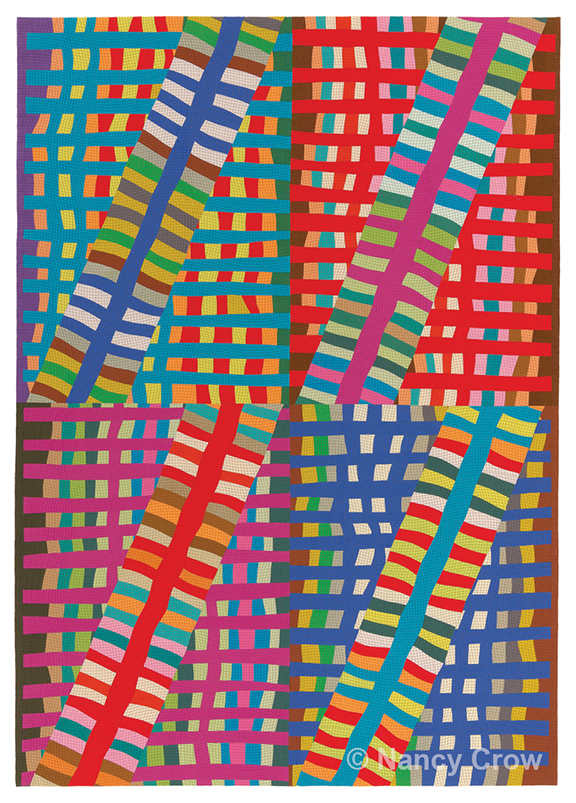 Exhibition unites the three directions her artwork has taken in recent years
AUBURN, NY (June 8, 2023) – The artworks featured in artist Nancy's Crow's exhibition, "Nancy Crow: Sequences, Riffs, and Drawings," represent three directions her process has taken her based on her lifelong challenge of staying focused.
"Because of the way my personality was formed from the time I was a child, I have a hard time staying focused," she said during a Zoom interview with Schweinfurth Program Director Davana Robedee. "Therefore, I will start in one direction with my work and get bored, and then I'm off in another direction.
After many years of creating art in many directions, Crow said it's coming together. "It's all starting to make sense."
Crow's solo exhibition opens June 10, 2023, at the Schweinfurth Art Center in Auburn, NY, and runs through Aug. 20, 2023. The opening, which is free and open to the public, will be 4 to 6 p.m. June 10.
While she won't be present at the opening, Crow will be in town to give an informal gallery walkabout on July 19, at 7 p.m. The talk is free and open to the public. Art center admission is $10 per person. No reservations are required.
Nancy Crow is a highly respected and influential textile artist. She has received numerous awards, including Fellow of the American Craft Council; The Individual Artist's Fellowship twice from Ohio Arts Council; the National Living Treasure Award from the University of North Carolina, Wilmington; and Master of her Medium in Textiles by The James Renwick Alliance, associated with The Renwick Gallery/Smithsonian Institution.
Her quilts are included in the collections of The Museum of Arts & Design and The Museum of American Folk Art, both in New York City; The Boston Museum of Fine Arts; The Renwick Gallery/Smithsonian Institution; The Indianapolis Museum of Art; and other art institutions.
Crow offers intensive art retreats on her 218-acre farm east of Columbus, Ohio.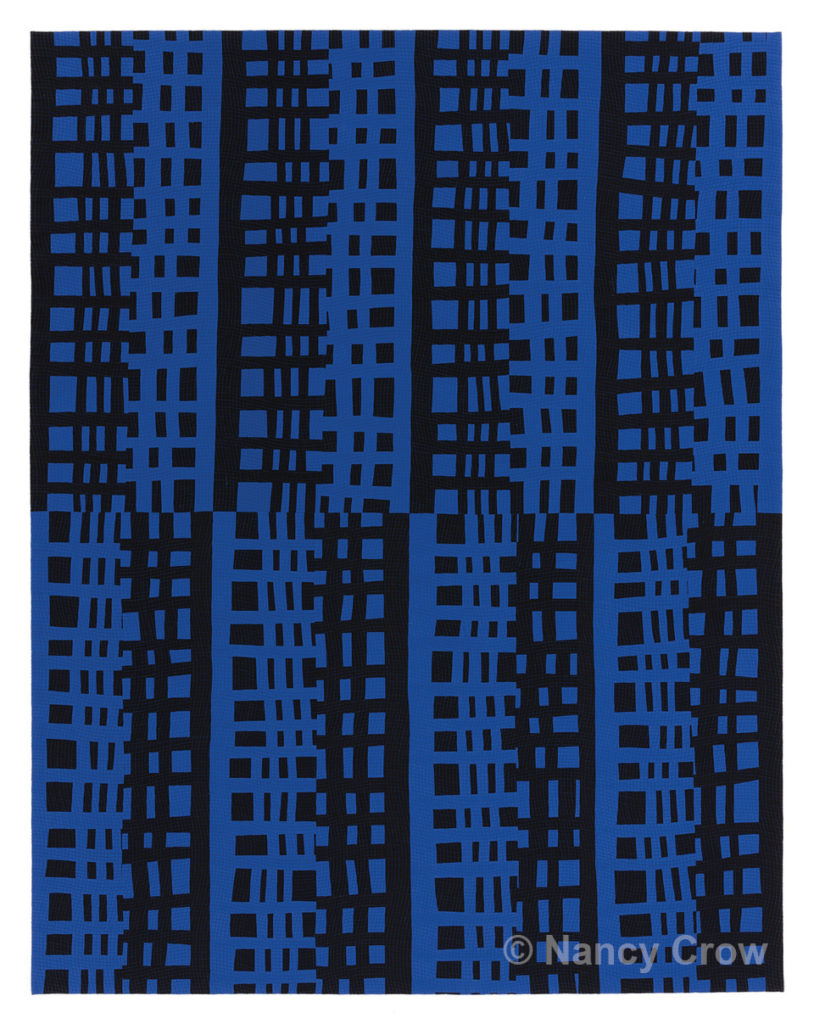 Her works in "Sequences, Riffs, and Drawings" represent emotions and thoughts articulated in the language of geometric elements that emphasize figure/ground tension. "For me, great figure/ground tension equals beauty," she stated. "Beauty is life-giving. I need beauty."
"I'm disappointed in myself if I cannot make (figure/ground tension) come off," she said. "I can't tell you, I can't even tell myself, what is the figure/ground tension that I must use each time because it is different for every single thing I see. … My work takes a lot of time for me to make because I am so critical of that aspect of it."
The three directions that her work takes are named in the exhibit's title: sequences, riffs, and drawings. "Because I always have a lot of anxiety, I have found that sequences, which means putting an order to how things are put together, helps quell my anxiety," she said. "At least while I'm working on that, I calm down and relax."
During the COVID-19 pandemic, Crow found she couldn't create because she was racked with anxiety. When she started creating again, she turned to sequences to ease her worries.
Her piece "Drawing: Riff #5" is the sequence that underlies most of the pieces in that series. "This is a very severe piece, but as soon as I see it, I'm home," she said. "If someone comes to the exhibit, studies 'Drawing: Riff #5,' they will then see as they walk along how I have scaled things up and scaled things down, have changed colors, have changed values, but that sequence is there."
The diagonals in her artwork represent the railroad tracks near the house she grew up in. "The only time (my mother) would get pretty loud and pretty firm was, 'Don't go near the train tracks!'," Crow recalled. "That just sort of startled me and scared me. … Worrying that the train was actually going to come into my bedroom window and run over me, that's how much my mother scared me about the train tracks."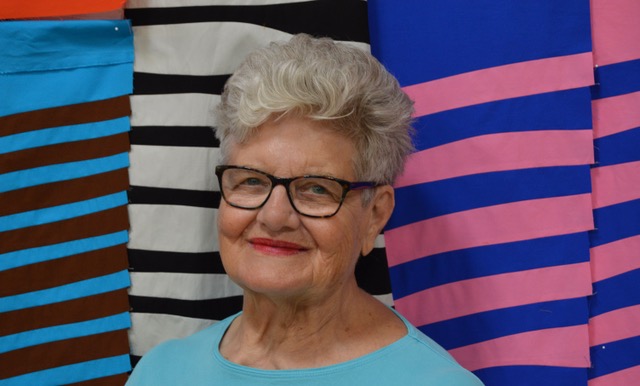 Riffs is her word for taking an idea and playing with it, creating it in different colors, different values.
"Often times when I start out, I'm very uptight. I'm very controlling," Crow said. "I'm very 'classical,' when the truth inside myself is I want to be spontaneous and more improvisational. So sometimes working through these riffs, I can finally get over to what I call the other side, which is more spontaneous."
Drawing is the easiest for her to define. "Every time I put my cutter down to the fabric, I am drawing," Crow said. "I have to be conscious of what I'm doing when I'm drawing, when I'm making that edge."
She didn't start her 40-year-plus career as an art quilter believing that, but she has embraced it over the past two decades. "I love making those pieces because I see them absolutely as lines or linear shapes, either going vertically or horizontally."
Despite turning 80 this year, Crow shows no signs of slowing down. "I do feel that having to go up and down ladders, walk to my studio and throw my fabrics all over the place, and lift these big, heavy quilts, all these things keep the body really going," she said. "So don't give up, keep going. I feel like I've got more ideas than ever, I have more energy galore. I can do art."
The exhibit is sponsored by Osborne Memorial Association, Nelson B. Delevan Foundation, and New York State Council on the Arts.
If you go …
WHAT: "Nancy Crow: Sequences, Riffs, and Drawings," a solo exhibition by Nancy Crow
WHERE: Schweinfurth Art Center, 205 Genesee St., Auburn, NY
WHEN: June 10 through Aug. 20, 2023
OPENING: 4 to 6 p.m. Saturday, June 10, 2023
GALLERY HOURS: 10 a.m. to 5 p.m. Wednesdays through Saturdays and 1 to 5 p.m. Sundays
ALSO ON DISPLAY: "The Palace at 3AM" by Buffalo-based artist Gary Sczerbaniewicz and "I Am a Friend of Dorothy" by Finger Lakes artist Kevin Carr
COST: Admission is $10 per person; Schweinfurth members, participating artists, and children 12 and under are always free
MORE INFORMATION: myartcenter.org