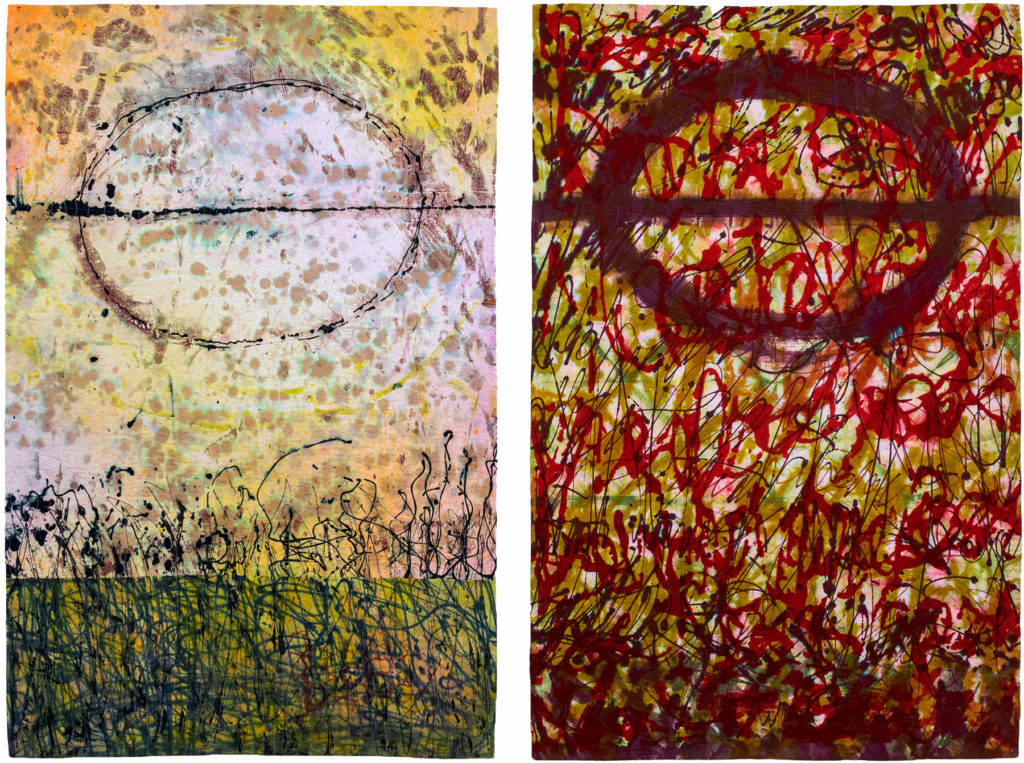 Oct. 23, 2021, to Jan. 9, 2022
Quilts=Art=Quilts is an annual juried quilt exhibition that has been held since the art center's opening in 1981. Each year the exhibit attracts competitive entries from some of the world's leading quilt makers and fiber artists.
Juried by Jane Dunnewold and Karen Schulz, Quilts=Art=Quilts 2021 features 72 quilts from 61 national and international artists. The exhibit opens Oct. 23, 2021, and closes Jan. 9, 2022.
The opening will be held from 10AM to 5PM Saturday, Oct. 23, 2021. To avoid hosting large crowds in a short time span, we are opening for free the entire day to space out attendees.
Artist Talks
In lieu of Trunk Shows, we will be posting four Artist Talks with participants in this year's Quilts=Art=Quilts exhibition. The prerecorded videos will go live at 2 p.m. Sundays on this website, YouTube channel, and our Facebook and Instagram accounts. Here is our schedule:
Nov. 21, 2021: Fuzzy Mall
Nov. 28, 2021: Helen Geglio
Dec. 5, 2021: Kevin Womack
Dec. 12, 2021: Irene Roderick
Jurors
Jane Dunnewold
Jane Dunnewold teaches and lectures internationally, and has mounted numerous solo exhibitions, including Inspired by the Masters (Texas Quilt Museum (2018) and the National Quilt Museum in 2019. A second mixed media series featuring re-purposed quilt blocks and gold leaf was exhibited at the McNay Art Museum in San Antonio, Texas (2017) and at the Armory Art Center in West Palm Beach, FL.
Her work won Best of Show in the exhibition Timeless Meditations (Tubac Art Center/2013). She is a recipient of the Quilt Japan Prize, and Gold Prize at the Taegue (Korea) International Textile Exhibition. The San Antonio Art League named Dunnewold Artist of the Year for 2019. In 2020 her archives were acquired by the International Quilt Museum in Lincoln, Nebraska.
She is a former President of the international Surface Design Association and currently stewards the Creative Strength Training community online.
Karen Schulz
Born, raised and educated in the northeastern United States, Karen Schulz has lived in the Washington, DC, area for the last 45 years. While she has used a sewing machine since the age of 9 and created original, one-of-a-kind quilts for the last 41 years, she came to artistic expression later in life and has pursued her art full time for the last 14 years, studying with many notable artists in the field.
Schulz's work has been accepted into many national and international competitions, and has been exhibited widely in both solo and group exhibitions both in the United States and abroad. She has garnered many awards, including Best in Show at Quilt National 2015 and 2019, a Juror's Choice award at Quilt National 2017, Best in Fiber at the Creative Crafts Council Exhibition 2015, and Best in Show at the Quilts=Art=Quilts 2018 exhibition. Her work is in corporate and museum collections.
In the last four years Schulz has begun to explore acrylic and mixed media on paper. These efforts grew out of a frustration with the limits of working with cloth and a sewing machine to make marks. Each media influences the other as she works back and forth, sometimes merging the two worlds.
Thank you to our exhibit sponsor, WRVO Public Radio

Participating Artists
Margaret Abramshe
Mary Alexander
Liz Anderson
Astrid Hilger Bennett
Deb Berkebile
Margaret Black
Deborah Boschert
Anna Brown
Laurie Bucher
Betty Busby
Susan Byrnes
Shin-hee Chin
Anna Chupa
Rachel Ivy Clarke
Sue LaWall Cortese
Rebecca Cynamon-Murphy
Barbara Danzi
Deb Deaton
Petra Fallaux
Diana Fox
Helen Geglio
Julia Graziano
Debbie Grifka
Barbara Oliver Hartman
Judy Hooworth
Maren Johnston
Patty Kennedy-Zafred
Jill Kerttula
Judy Kirpich
Anna Faye Korngute
Susan Lapham
Mary-Ellen Latino
Lynne Lee
Jane Lloyd
Niraja Lorenz
Fuzzy Mall
Jeanne Marklin
Valerie Maser-Flanagan
Diane Melms
Lena Meszaros
Mandy Miller
Carol Miraben
Kathy Nida
Pat Pauly
Julia Pfaff
Paula Rafferty
Denise Roberts
Susan Robinson
Irene Roderick
Roxanne Schwartz
Maria Shell
Brenda Gael Smith
Jim Smoote
Petra Soesemann
Bill Stearman
Kathy Suprenant
Janet Swigler
Jan Tetzlaff
Shari Werner
Libby Williamson
Kevin Womack