October 26, 2019 – January 5, 2020

Quilts = Art = Quilts is an annual juried quilt exhibition that has been held since the Art Center's opening in 1981. Each year the exhibit attracts competitive entries from some of the world's leading quilt makers and fiber artists.
Juried by Claire Benn and Petra Fallaux, Quilts= Art = Quilts 2019 features 73 quilts from 64 national and international artists. The exhibit opens on Saturday Oct. 26th and closes Jan. 5th, 2020.
Trunk Shows and events:
Sunday Trunk Shows at 2pm: QAQ artists and local quilt makers bring their quilts for a talk and Q&A session the sewing studio.
Nov. 3: QAQ Artist Joyce Martelli
Nov. 10: Author and artist Thomas Knauer
Nov. 24: Artist talk by Ellen M. Blalock
Dec. 1: QAQ Artist Denise Kooperman RESCHEDULED TO 2 P.M. SATURDAY, DEC. 7
Jurors
Claire Benn is one of the UK's leading mixed media and textile artists. Claire lives and works in a converted barn in Surrey, UK. She is an author, curator, and educator in art textiles. Her work has been exhibited in galleries on an international scale, including: USA: 'Material Pulses; Eight Viewpoints' Ohio (2016), Europe: The Florence Biennale (2007) European Art Quilt-touring Europe and the USA (2004, 2006, 2010, 2012, 2014, 2017), UK: 'Lines, Rows, Rhythm & Repetition Birmingham (2016) and with ViewSeven at the Menier Gallery, London (2013, 2015, 2017)-among many more. Claire's book publishing includes publications via the teaching studio of Committed to Cloth, which she co-founded and partnered until 2015. There are six publications, including Making Your Mark and Finding Your Own Visual Language. In addition to teaching at the Committed to Cloth studios, her teaching work has brought her to the Crow Timber-Framed Barn in Ohio, USA, the Masseria della Zingara in Puglia, Italy, The Textile Centre in Minneapolis USA, The Surface Design Association Conference, Kansas City, USA and Textile Studio in Speyer, Germany. Claire has also curated exhibitions and served as a juror for European Art Quilt 2010, 2012 and 2014, and Fine Art Quilt Masters in 2013.
Dutch native Petra Fallaux is a writer, curator, and artist based in Pittsburgh, PA. She co-directs an award winning architectural firm, Springboard Design, whose work includes museum, exhibition, and public interest design. After receiving degrees in psychology and film studies in the Netherlands, Petra moved to the United States where she earned a Master of Arts Management degree from Carnegie Mellon University. Upon graduation, the university hired Petra to direct its art galleries. She curated well over one hundred exhibitions in a variety of media ranging from quilts, paintings, prints, photography, sculpture, video, architecture, and design, to multimedia and site specific installations.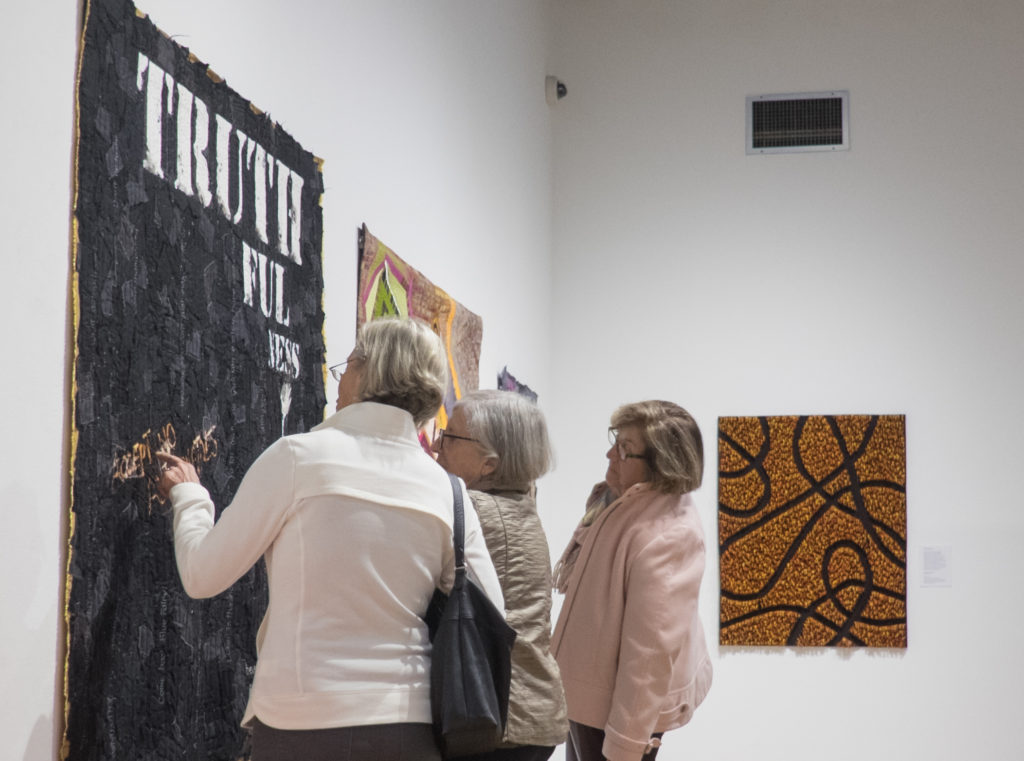 Prizes winners for QAQ 2019 are:
Best in Show: Shadow Jungle by Connie Carrington
First Prize: Franklin Gothic Heavy by Leah Higgins
Second Prize: Hedgerow by Gerri Spilka
Schweinfurth Award for Excellence: Listen Louder than You Sing by Shannon Conley
Finger Lakes Fiber Artist's Award for Surface Design: Crickets by Linda Waddle
Catherine Hastedt Award for Hand Workmanship: Line Dried by Helen Geglio
The Shirley Hastedt Award: when all is said by Melissa Matson
Juror's Choice: The Ground Is Shifting by Valerie Masar-Flanagan
Juror's Choice: Precipice by Jan Tetzlaff