Oct 27, 2018 – Jan 6, 2019
Quilts=Art=Quilts is an international juried quilt exhibition at the Schweinfurth Art Center in Auburn, New York. This year's exhibit features quilts by 59 artists from across the US and around the world. The exhibit is on view from October 27, 2018, through January 6, 2019.
This year's exhibit was juried by Gerri Spilka and Kit Vincent. Prizes were chosen by Prize Juror Robert Shaw.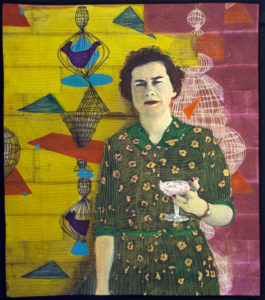 Jurors Choice Awards:
• Margaret Abramshe, of St. George, UT; "Nan," 2017
• Petra Fallaux, of Pittsburgh, PA; "Broken Horizon," 2018
• Helen Geglio, of South Bend, IN; "So Much Slipping Through Our Fingers," 2018
Catherine Hastedt Award for Hand Worksmanship:
Marianne Burr, of Coupeville, WA; "Fragments," 2018
Shirley Hastedt Award:
Maggie Vanderweit, of Fergus, Ontario, Canada; "All of Us and Aliens, Too," 2017
Finger Lakes Fiber Artists' Award for Surface Design:
Julia Pfaff, of Richmond VA; "Repeat V," 2017
Schweinfurth Award for Excellence:
July Kirpich, of Takoma Park, MD; "Memory Loss No. 1," 2018
Second Prize:
Elizabeth Busch, of Glenburn, ME; "Enigma 2," 2017
First Prize:
Elke Klein, of Beckingen, Saarland, Germany; "Tiles #13: Rainbow," 2017
Best of Show:
Karen Schulz, of Silver Spring, MD; "The Way You Occupy Space," 2017
Thank you to our Quilts=Art=Quilts sponsors!

• Davis Family Trust
• Tompkins Financial
• WRVO Public Radio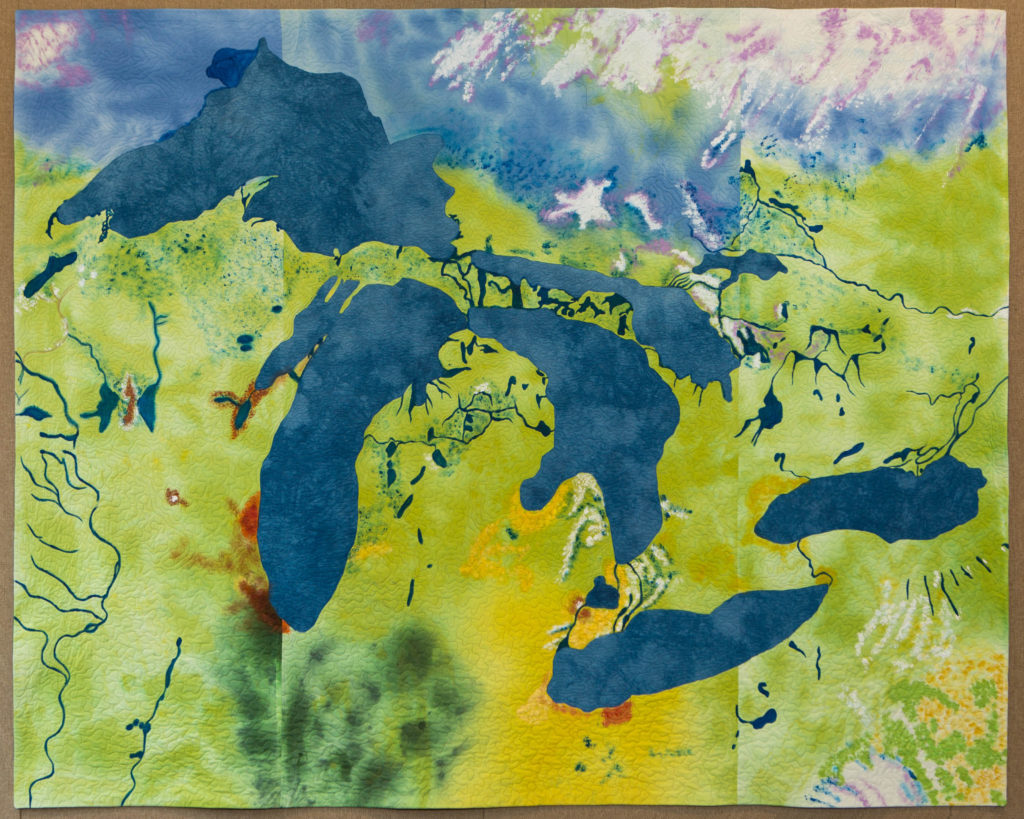 Artist List
Margaret Abramshe, Saint George, UT
Nancy Bardach, Berkeley, CA
Marina Baudoin, Silver Spring, MD
Deb Berkebile, Conneaut, OH
Margaret Black, Boswell, PA
Dawn Boyd, Atlanta, GA
Carol Boyer, Syracuse, NY
Anna Brown, Bungwahl, Australia
Marianne Burr, Coupeville, WA
Elizabeth Busch, Glenburn, ME
Erika Carter, Renton, WA
Holly Cole, Triangle, VA
Nancy Condon, Stillwater, MN
Alexis Deise, Newton, MA
Petra Fallaux, Pittsburgh, PA
Caryl Bryer Fallert-Gentry, Port Townsend, WA
Ann Feitelson, Montague, MA
Kathy Ford, Worthington, MA
Jan Frazer, Elwood, Australia
Alice Gant, Trumansburg, NY Helen Geglio, South Bend, IN
Julia Graziano, Manlius, NY
Anne Hammond, Silver Spring, MD
Ruby Horansky, Warminster, PA Patricia Kennedy-Zafred, Murrysville, PA
Chawne Kimber, Easton, PA
Judy Kirpich, Takoma Park, MD
Elke Klein, Beckingen, Germany
Colleen Kole, Grand Rapids, MI
Michele Lasker, Tulsa, OK
Jane Lloyd, Ballymena, Ireland
Viviana Lombrozo, San Diego, CA
Aryana Londir, Phoenix, AZ
Beth Markel, Rochester, MI
Valerie Maser-Flanagan, Carlisle, MA Diane Melms, Anchorage, AK
Susan Michael, Tulsa, OK
Kathy Nida, El Cajon, CA
Bobbe Nolan, Eagle Lake, TX
Frauke Palmer, Columbus, OH
Pat Pauly, Rochester, NY
Julia Pfaff, Richmond, VA
Heather Pregger, Fort Worth, TX
Denise Roberts, Albright, WV
Lora Rocke, Lincoln, NE
Karen Schulz, Silver Spring, MD
Maria Shell, Anchorage, AK
Karen Sienk, Colden, NY
Janice Smyth, Newport, RI
Joan Sowada, Gillette, WY
Christine Staver, Boalsburg, PA
Kim Svoboda, New York, NY
Paula Swett, Lewisburg, PA
Phyllis Tarrant, Matthews, NC
Melanie Tuazon, Livingston, NJ
Maggie Vanderweit, Fergus, Canada
Vickie Wheatle, Louisville, KY
Hope Wilmarth, Spring, TX
Kathy York, Austin, TX