Oct. 28, 2017, to Jan. 7, 2018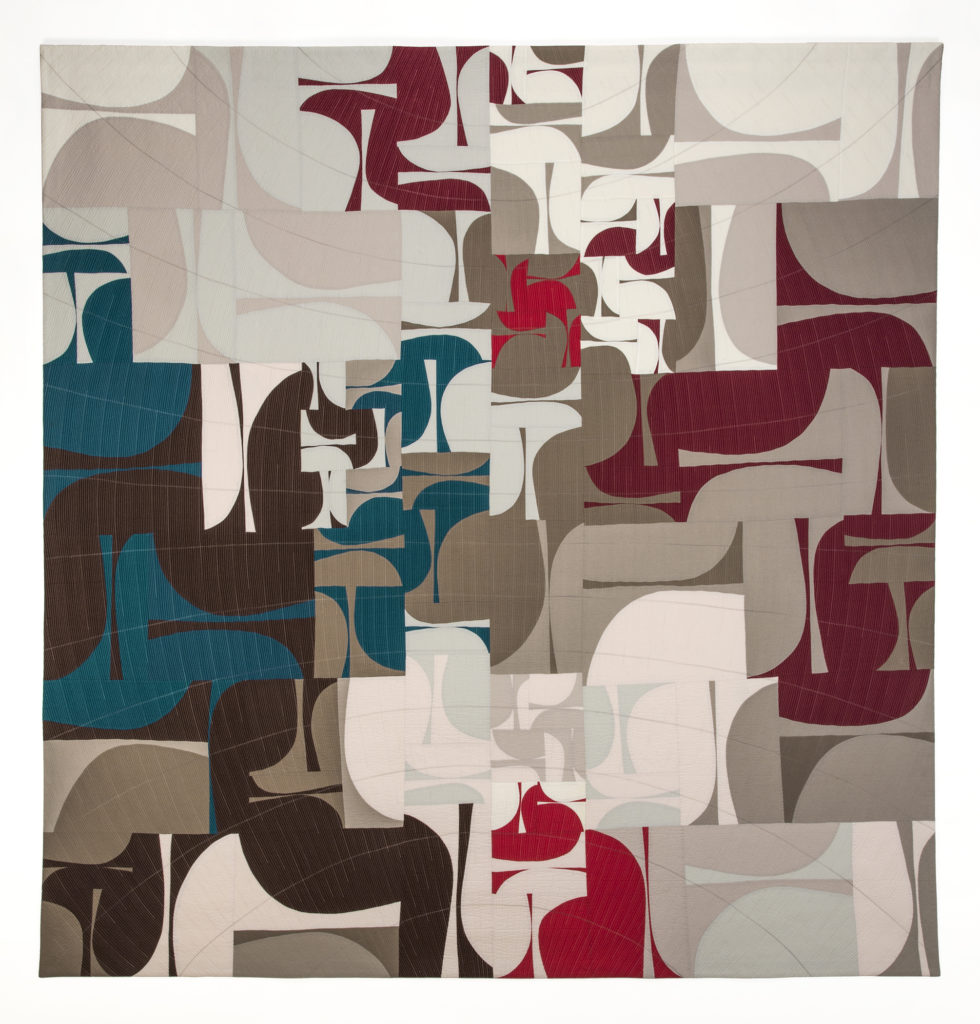 Quilts=Art=Quilts is an international juried quilt exhibition at the Schweinfurth Art Center in Auburn, New York. This year's exhibit will feature quilts by 65 artists from across the US and around the world.
The exhibit will be on view from October 28, 2017, through January 7, 2018. The year's exhibit was juried byJeannette DeNicolis Meyer, Marcia Young, and Joan Schulze. Prizes were choosen by Marica Young, each juror chose a juror's choice award, and donor sponsored prizes were selected by the Schweinfurth.
This year's prize winners are:
Best of Show: Ruins 1 by Leah Higgins
First Prize: People of the Wind by Shin-hee Chin
Second Prize: Infinity IV by Elena Stokes
Third Prize: Container by Kathy Ford
Award for Surface Design: Griffith and Broadway by Marian Zielinski
Juror's Choice: Breakthrough by Elizabeth Busch
Juror's Choice: Flying Geese- One Voice by Vicki Conley
Juror's Choice: Frameworks IV by Julia Graziano
The Schweinfurth Award for Excellence: Tumbling by Naomi Velasquez
The Catherine Hastedt Award for Hand Workmanship: Compaction & Drift by Shea Wilkinson
The Shirley Hastedt Award: Red Jive and Blue Jive by Gerri Spilka

We encourage weekend visitors to plan their visits around the Trunk Shows which will be held throughout QAQ on four Sundays at 2:00 pm. Presenting artists bring a wide variety of their work and describe their process and approach to quilting. The admission fee allows visitors to view the exhibits and join the trunk shows. Trunk Shows will include:
Nov. 5th: Regina Sweet
Nov. 19th: Pat Pauly
Nov. 26th: Carol Boyer
Dec. 3: Beverly Kondolf
The exhibit will be on view through Sunday, January 7, 2018. Note that the Art Center is CLOSED on Thanksgiving Day, Christmas Eve, Christmas Day, New Year's Eve, New Year's Day, and we close at 2pm on November 22.
Artists accepted into this year's exhibit include:
Esterita Austin
Liz Axford
Suzy Bates
Margaret Black
Marianne Burr
Betty Busby
Elizabeth A. Busch
Susan Callahan
Susan E. Carlson
Erika Carter
Sharon Carvalho
Sharon Casey
Shin-hee Chin
Sandra Palmer Ciolino
Jette Clover
Holly L. Cole
Vicki Conley
Lisa Corson
Nancy Crasco
Helene F. Davis
Maggie Butterfield Dickinson
Ann B. Feitelson
Kathy Ford
Diane W. Franklin
Helen K. Geglio
Leah E. Gravells
Julia Graziano
Sandy Gregg
Ayn Hanna
Leah Higgins
Karen L. Hinkle
Stacy Hurt
Kathleen Kastles
Patricia Kennedy-Zafred
Paula L. Kovarik
Liz Kuny
Kimberly Lacy
Viviana Lombrozo
Niraja C. Lorenz
Valerie Maser-Flanagan
Diane Melms
Elizabeth Michellod-Dutheil
Orit Modiano
Melody Money
Elizabeth A. Nacenta de la Croix
Kathy Nida
Pat Pauly
The Pixeladies
Wen Redmond
Ann Ribbens
Helena Scheffer
Barbara J. Schneider
Beth Schnellenberger
Karen Schulz
Mary Ruth Smith
Ileana L. Soto
Gerri Spilka
Andrew Steinbrecher
Elena Stokes
Naomi S. Velasquez
Nancy Whittington
Shea Wilkinson
Marianne R. Williamson
Ellen Wong
Marian Zielinski