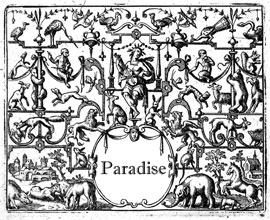 March 24 to May 21, 2017
Paradise is a multi-channel sound installation by Douglas Quin and Lorne Covington. The installation is an interactive experience where visitors essentially compose a collage of virtual acoustic spaces drawn from the natural world.
he soundscapes have been gathered over a period of nearly three decades from around the world, from Antarctic ice to Arctic tundra, and from African savannah to Amazon rainforest and atmospheric whistlers from space.
The idea of Paradise grew out of years of the artists' work creating interactive audio soundscapes and multimedia experiences in a range of museum and public space settings.
Douglas Quin is a world renowned sound designer, naturalist, public radio commentator and music composer, and co-director of the Audio Arts graduate program, S.I. Newhouse School of Public Communications at Syracuse University. Lorne Covington, fluent with visual and performing art, electronic hardware, embedded systems and all layers of sofltware development, creates immersive responsive environments using in-house developed cutting-edge sensing and software technologies.
The installation was commissioned by the Society for New Music.
The installation will be upstairs in our second floor Davis Family Gallery, on exhibit during the same time period as Made in NY 2017. The opening reception will be held on Friday, March 24, from 5-8pm. Opening events on March 24 include a dance performance at 6:30pm by Isabelle Wellauer and the Absolute Dance Group in the Paradise exhibit.