Sept. 1 through Oct. 15, 2023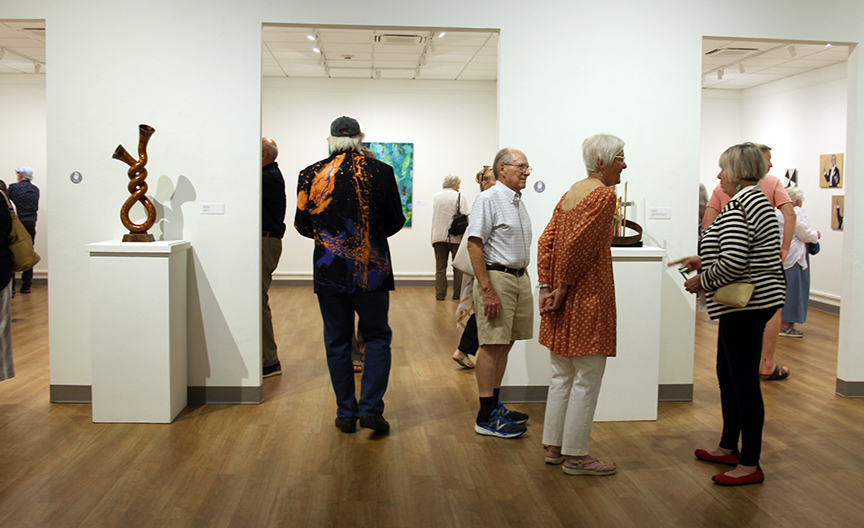 Schweinfurth Art Center's "Member Show 2023," which runs Sept. 1 through Oct. 15, 2023, includes 120 works from 128 people this year, including the nine members of the Schweinfurth Fiber Arts Group.
It's a loosely organized group of women and men from Central New York who meet nearly every Tuesday at the Schweinfurth – or maybe at a restaurant or a lakefront – to knit, stitch, crochet, and talk about their lives. They celebrate birthdays, have holiday parties, and offer life advice to each other and members of the Schweinfurth staff.
The piece, called "Earth's Eye View," is a giant crocheted eye with dangling streamers festooned with clear or white beads – perhaps representing tears as Earth watches the destruction wrought by wars and climate change.
The show contains a wide variety of mediums, including photographs, watercolors, collages, and even a dress made from palm fronds. It also has drawn entries from as far away as California and Florida.
"Member Show 2023" is accompanied by two solo exhibitions, "Rural Voices Rising: Can Art Subvert Media's Narrative?" by Lake Placid artist Susan Hoffer and "Reflections of a Photographer" by Moravia artist Fred Price. All three exhibits are on display through Oct. 15, 2023.
This exhibit is sponsored, in part, by the New York State Council on the Arts.
Take a virtual tour of the exhibit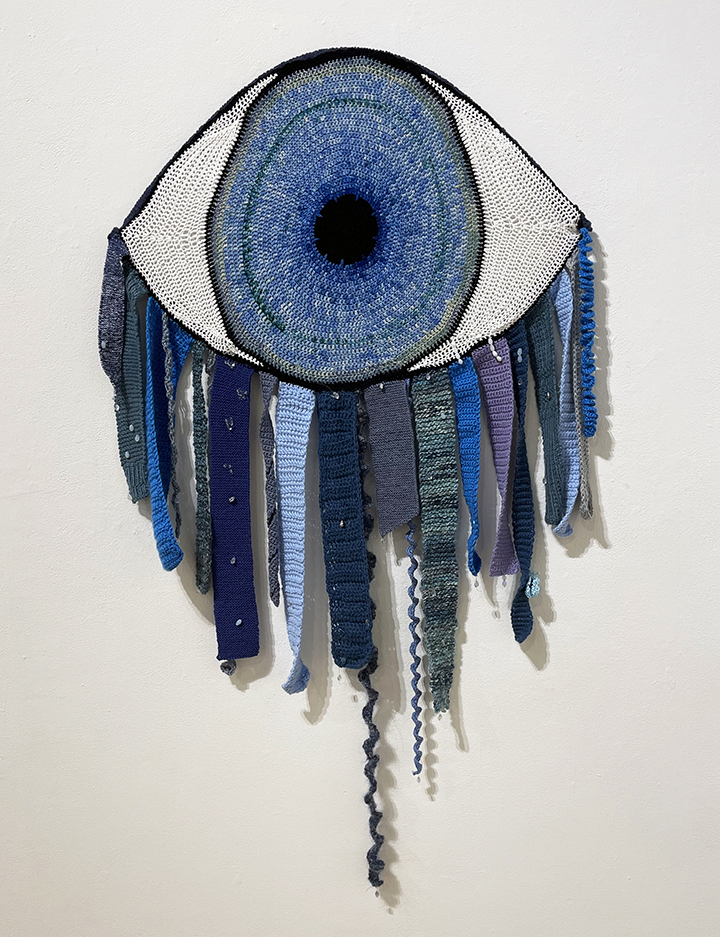 Participating Artists
Carol Adamec
Peggy Ahouse
Marilyn Akerson-Corbitt
Peter Allen
Beverly Amborski
Elizabeth Anderson
Donna Atwood
Mark Avery
Christopher Baker
Howard Bartle
Victoria Bartling
Michael Baum
Lorraine Benjamin
Deborah Bilinski
Helen Bishop-Santelli
Linda Blanding
Lydia Boddie-Rice
Susan Marie Borden
Sharon Bottle Souva
Karen Bove
Carol Boyer
Carl Brown
Eva M. Capobianco
Dolores Card
Hermon Card
Rachel Ivy Clarke
Bob Conge
Deborah Connolly
Barbara Corey
Andrea Creighton
Willson Cummer
Sharon Dec
Gail Demi
Michael Dempsey
Marcus DeVoe
Mary Diamond
Jill Doscher
Bobbie Dumas-Panek
Leonard Eichler
Michael Field
Tracy Finn
Erika Fiutak
Alice Gant
Paul Garland
Anne Garretson
Geoffrey Gilbert
Diana Godfrey
Ronald Gonzalez
Rachael Gootnick
Rainn Graye
Starlene Greathouse
Patrick Hannay-Zaia
Nancy Herendeen
Joyce Homan
Deale Hutton
Laurel Izard
Maureen Jakubson
Mary Jesionowski
Tyrone Johnson-Neuland
Beverly Kondolf
Denise Kooperman
Barbara Krause
James Kwiatkowski
Gary Larsen
Beverly Lay
Debbie P. Lee
Harry Littell
Jody Longeill
Robert Marcuson
Richard Margolis
Caitlin Marx
Suzanne Masters
Barbara Mauger
Kathleen Miles
Joni Monroe
Denise Moody
Laurel Moranz
Nicholas Morciglio
Rebecca Moshaty
Judy Murrett
Teresa Nelson-Graham
Thomas Nettle
Daniela Nikolavsky
Richard Nolan
Therese O'Connor
Sewall Oertling
Janet Oertling
Shirley Penman
Linda Peterson
Halloran Peterson
Jamie Rathbone
Roberta Ripberger
Kevin Roberts
Timothy Rodrigo
Masumi Sakagami
Penny Santy
Millie Schmidt
J. Desy Schoenewies
Cheri Sheridan
Michael Shoemaker
Doreen Simmons
Colleen Rae Smiley
Harin Song
Nicholas Stefano
Diana Suskind
Paula Tardibone
d dargan teska
Kate Timm
Marie Ucci
Jeanne Ulrich
Meg Vanek
Sam Vann
Jane Verostek
Mnetha Warren
Bart Wasilenko
George Wegman
Cynthia Wells
Stefani Woodams
Scrap Wrenn
Jennifer Zalewski