Mary Padgett's pastels capture sights, sounds of a place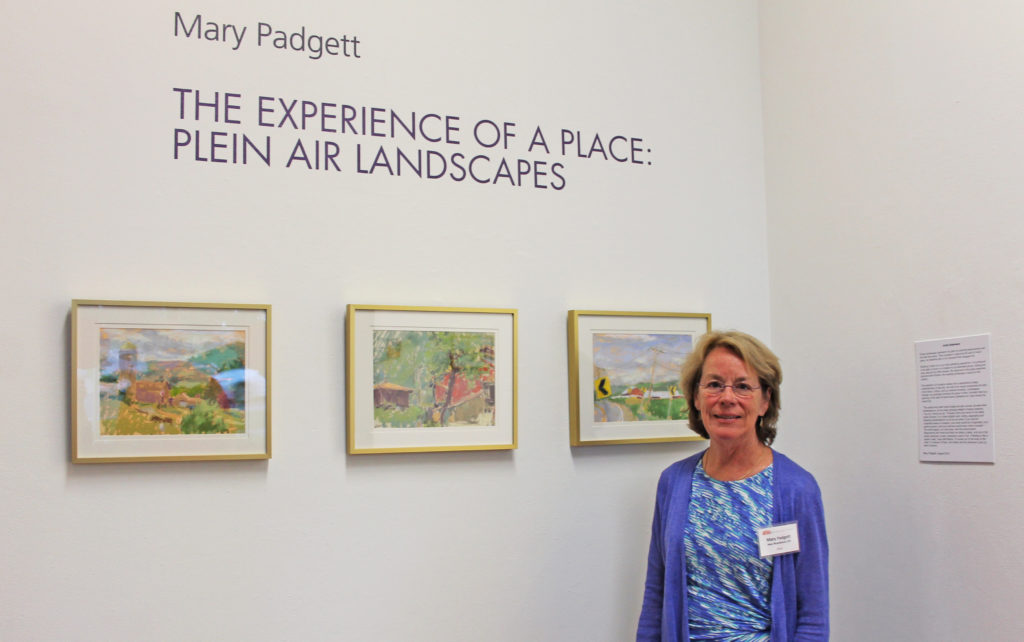 Rain or shine, you can find artist Mary Padgett creating in her favorite place: outside. A plein air painter, a French term that means open air, the only things that stop her from her vocation are cold and wind.
"I enjoy working from observation much more than from photos," Padgett said. "It is such a pleasure to be out of doors, too, when the weather is good."
Weather can be challenge for plein air painters, especially in Central New York. Padgett, who lives in the Madison County town of New Woodstock, retreats indoors to her studio during winter. "I still work from observation, painting still lifes," she added.
Padgett's plein air artwork will be featured in a solo exhibition, "The Experience of a Place: Plein Air Landscapes," at the Schweinfurth Art Center's Gallery Julius from Aug. 30 to Oct. 12, 2019. The pieces include soft pastels created in Spain, Italy, France, and the United States.
She has been painting outdoors for so long that she cannot remember when she first started painting plein air. "I value the experience because it is an immersion into a place," she said. "As I focus visually, I also am using all my other senses: Listening to the sounds of a place, smelling its fragrances and odors, feeling its textures. It is an intuitive response that then determines the specifics of my painting."
Padgett compares plein air work to meditation. "The rest of life falls away and it is the moment, the connection with the land, that dominates my thoughts and actions," she said.
Her favorite medium to work in is pastels. "It is portable; I carry it and my boards in my backpack and can go anywhere," Padgett said. "It is also versatile. Pastel can be a fine, precise line or a broad and buttery stroke. It is a very colorful medium, too, and color and its interaction are important to me."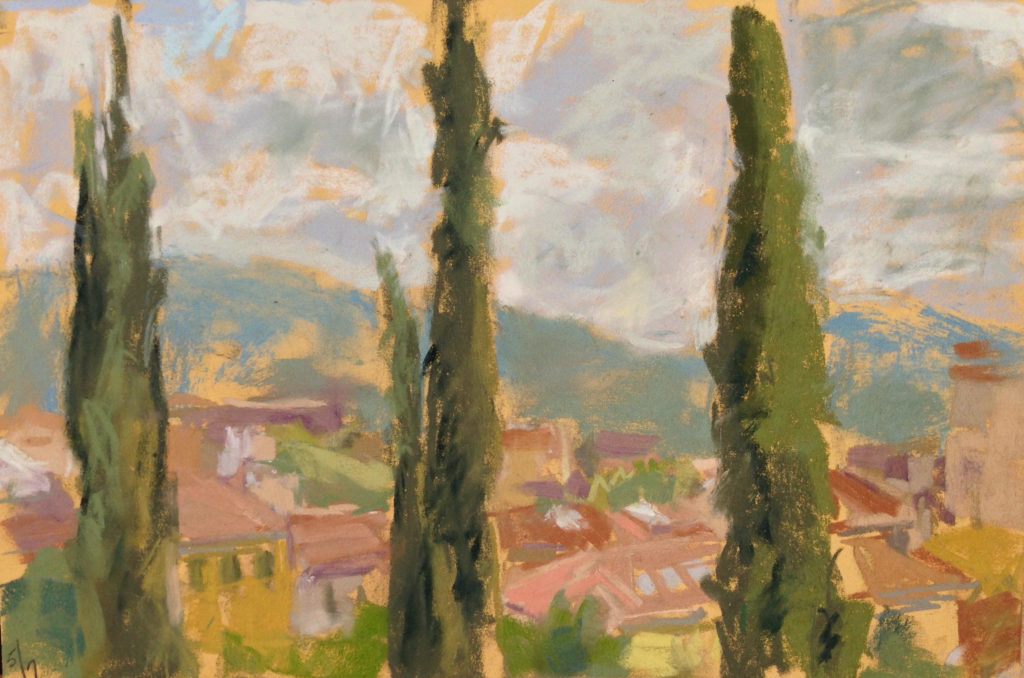 You can see the importance of color in Padgett's pieces. A glance through her online gallery reveals many shades of green paired with the browns, tans, pinks, and reds of houses, buildings, and bridges. The blues of sky and water make occasional appearances.
Padgett also teaches plein air painting in Europe and here in the United States. During her workshops, she offers gentle instruction as well as her experience picking outstanding locations for painting. "My first piece of advice I give is to allow themselves to enjoy being at the site, responding to what lay in front of them," she said. "I emphasize process over product. The painting will happen as a result of their engagement with the environment.
"I also emphasize the elements of picture-making: linear and atmospheric perspective, effects of the light source on values, value ranges, and the use of warm and cool colors. I tell my students what to look for," Padgett continued. "Throughout, I offer support and encouragement as they develop their paintings."
If you go…
What: The Experience of a Place: Plein Air Landscapes"
Who: Artist Mary Padgett
When: Aug. 30 through Oct. 12, 2019
Where: Schweinfurth Art Center, 205 Genesee St., Auburn
Admission: $7 for adults; free for members and children 12 and under
Hours: 10 a.m. to 5 p.m. Tuesdays through Saturdays and 1 to 5 p.m. Sundays
Also showing: "Gary Trento: A Retrospective" and "Member Show 2019"