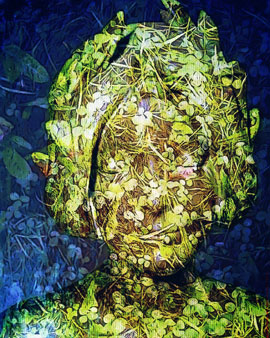 March 24 to May 21, 2017
Made in NY is an annual exhibit at the Schweinfurth Art Center that features work by New York artists. The exhibit is an opportunity for artists residing in New York State to showcase their work in a competitive, juried exhibition.
Jurors Yvonne Buchanan and Nancy Green viewed 309 artworks based on the theme Envisioning the Future for this year's Made in New York exhibition. They selected 63 artworks of a variety of media such as photography, sculpture, ceramics, painting, drawing, fiber, glass, and installation.
This year's prize winners are:
Best in Show: Pennie Brantley, Triumph (Sarlat-la Caneda, France)
First Prize: Tom Hall, It Could Be Paradise But It's Only California

Second Prize: Sara Prigodich, Weight
Honorable Mention: Doug Allan Lloyd, Wendy Harris, Artist
Honorable Mention: Holly Wilson, Electric Cure (Machine #1)
Honorable Mention: Peter Gohringer, Soft Green Mutant
Honorable Mention: Stefan Zoller, Bone Memory Triptych
This year's Made in New York artists are:
Chelsey Albert
Peter Allen
Suzanne Beason
Madeline Bartley
Kathryn Bilharz Gabriel
Pennie Brantley
Phyllis Bryce Ely
Faith Anne Carapella
Daniel Chadwick
Madeleine Cichy
Peter Gohringer
Tom Hall
Jennifer Hecker
Sally Hootnick
Sue Huggins Leopard
Richard Jochum
Susan Kaye
Emily Kenas
Tracy Kerdman
Rosemary Krupka
Casey Landerkin
Susan Larkin
Zaun Lee
Tina Lent
Douglas Lloyd
Randi Millman-Brown
Barbara Murak
James Mullen
Leah Oates
Sewall Oertling
Beth Pedersen
Sara Prigodich
Roslyn Rose
Julia Rossmann
Danielle Ruggiero
Lauren Skelly Bailery
Jennifer Schinzing
Alan Singer
Jason Smith
Karen Jean Smith
Laurie Snyder
Bill Stevens
Sarah Sutton
Taro Takizawa
Donalee Wesley
Lisa Gregg Wightman
Julie White
Holly Wilson
Matthew Wilson
Janet Winkie
Beckett Wood
Stefan Zoller