March 26 to May 22, 2016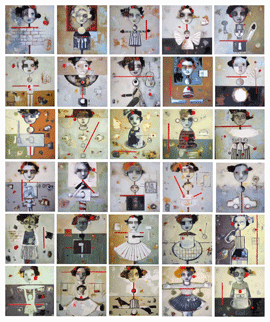 Made in NY is an annual juried exhibition which features artwork by artists residing in New York State. This year's exhibit will include 70 pieces by 65 artists.
This year's jurors included John von Bergen, a sculptor and co-founder of Sculpture Space in Utica, NY; and Ann Clarke, Dean of Syracuse University's College of Visual and Performing Arts.
Prize winners for 2016 include:
Best in Show: Shane Durgee, The Electric Lock Shockers, 2015 (Rochester, NY)
First Prize: James Skvarch, Too Much and Too Little, 2014 (Syracuse, NY)
Second Prize: Holly Wilson, Surpassed by Viable Science (Machine #2), 2015 (Syracuse, NY)
Honorable Mention: Doug Allan Lloyd, Wendy Harris, artist, 2016 (Auburn, NY)
Honorable Mention: Lee Hoag, Copper Head, 2013 (Rochester, NY)
Honorable Mention: James Ridlon, All Seeing Eyes, 2015 (Cazenovia, NY)
Participating artists in Made in NY 2016 include:
Meg Beaudoin (Stone Ridge, NY)
Jeanne Beck (Canandaigua, NY)
Marna Bell (Syracuse, NY)
Linda Bigness (Syracuse, NY)
Noma Bliss (Auburn, NY)
Stan Bowman (Ithaca, NY)
Pennie Brantley (Petersburgh, NY)
Al Bremmer (Sterling, NY)
Andrea Burgay (Brooklyn, NY)
Faithanne Carapella (DeWitt, NY)
Stephen Carlson (Syracuse, NY)
Daniel Chadwick (Scottsville, NY)
Anne Cofer (Syracuse, NY)
Greg Cost (New Hartford, NY)
Marianne Dalton (Cazenovia, NY)
Jill Doscher (Skaneateles, NY)
Shane Durgee (Rochester, NY)
Connie Ehindero (Rochester, NY)
Jack Elliott (Ithaca, NY)
Laura Fantini (Brooklyn, NY)
Abraham Ferraro (Albany, NY)
Dewey Fladd (Farmington, NY)
Karen Frutiger (Rochester, NY)
Nicora Gangi (Syracuse, NY)
Bob Gates (Jamesville, NY)
Laura Gurton (Kingston, NY)
Scott Herrmann (Liverpool, NY)
David Higgins (Corning, NY)
Lee Hoag (Rochester, NY)
Gail Hoffman (Syracuse, NY)
Robert Knight (Clinton, NY)
Tina Lent (Webster, NY)
Max Lent (Webster, NY)
Meredith Leonard (Syracuse, NY)
Douglas Lloyd (Auburn, NY)
Mauro Marinelli (Spencer, NY)
Barbara Mink (Ithaca, NY)
Barbara Murak (Getzville, NY)
Diane Newton (Ithaca, NY)
Barbara Page (Trumansburg, NY)
Pat Pauly (Rochester, NY)
Margery Pearl Gurnett (Pittsford, NY)
Jen Pepper (Eaton, NY)
Fred Price (Moravia, NY)
James Ridlon (Cazenovia, NY)
Maria Rizzo (East Syracuse, NY)
Julia Rossmann Perez (Aurora, NY)
Lutz Scherneck (Dolgeville, NY)
Norman Schillawski (Cicero, NY)
Russell Serrianne (Glens Falls, NY)
Ian Sherlock (Syracuse, NY)
Eric Shute (Marcellus, NY)
James Skvarch (Syracuse, NY)
Jason Smith (Honeoye Falls, NY)
Jane Soodalter (Cold Spring, NY)
William Stephens (Honeoye Falls, NY)
Werner Sun (Ithaca, NY)
Ryan Terhune (Skaneateles, NY)
Eve Troncone (East Syracuse, NY)
Kim Waale (Manlius, NY)
Jane Walker (Freeville, NY)
Holly Wilson (Syracuse, NY)
Ethan Worthington (Manlius, NY)
Susan Wulff (Skaneateles, NY)
Leigh Yardley (Hubbardsville, NY)