Industrial Nature by Michelle Stitzlein
June 20 to Aug. 16, 2015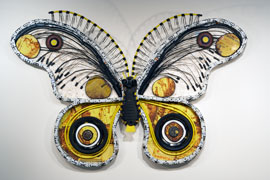 The Industrial Nature show is composed of work from three series by Michelle Stitzlein which borrow ideas and concepts from nature but are not imitations of any one species of plant or insect.
Michelle Stitzlein creates found object art/sculpture from recycled materials, including piano keys, broken china, license plates, rusty tin cans, electrical wire, bottle caps and plastic bags. "I have a strong desire to create. To make 'something with nothing' that nobody else wanted," says Stitzlein. Her Industrial Nature show is composed of work from The Fynbos Series, the Lichen Series and the Moth Series.
The exhibit will open to the public on Saturday, June 20, and run through Sunday, August 16. The exhibit reception will be on Saturday, June 20, from 3-5pm.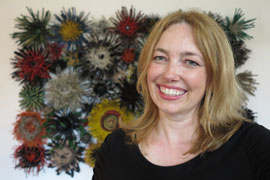 On Sunday, June 21, we will have a special Community Art Day from 1-5pm, when Michelle will lead children and parents in the creation of a large butterfly mosaic with bottle caps. The event is free and open to the public. We are collecting clean, plastic bottle caps for this project!
Michelle resides in Baltimore, Ohio, where she creates in her Art Grange studio. For more information about her, please visit www.artgrange.com.