In Person: A Group Exhibition with Works by John Fitzsimmons, Holly Greenberg, Lacey McKinney, and Donalee Peden Wesley
August 21 to October 9, 2021
In Person brings together four artists who focus on the human figure or stand-ins for them. With the recent loss of life from the COVID-19 pandemic, their artwork resonates anew.
Come to the opening at 5 to 8 PM Saturday, Aug. 21, 2021. The opening is free and open to the public. Light refreshments may be available weather permitting. Masks are required regardless of vaccination status.
Listen to the artists talk about their works.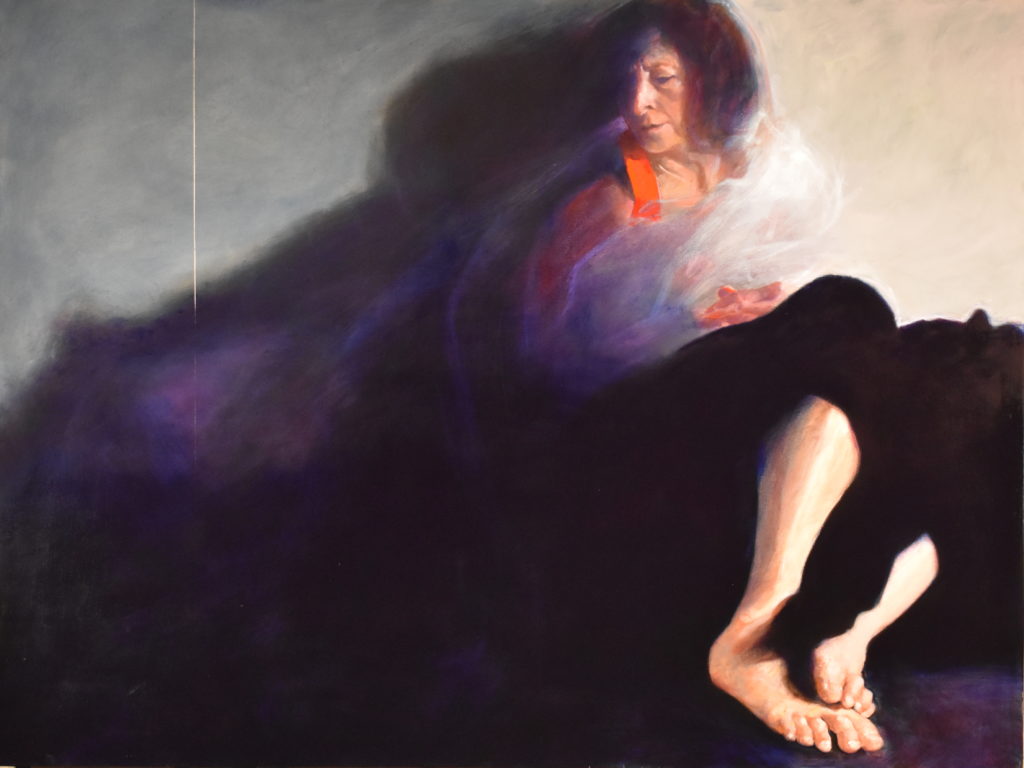 John Fitzsimmons
Artist Statement
When I am painting, I am digging, looking for a kernel, a seed, an essence that is there, I just need to find it. My work implies stories, but they are stories that can't be told with words, only images.
"My interest lies in what can not be told, in what seems unspeakable"
— Nicolas Africano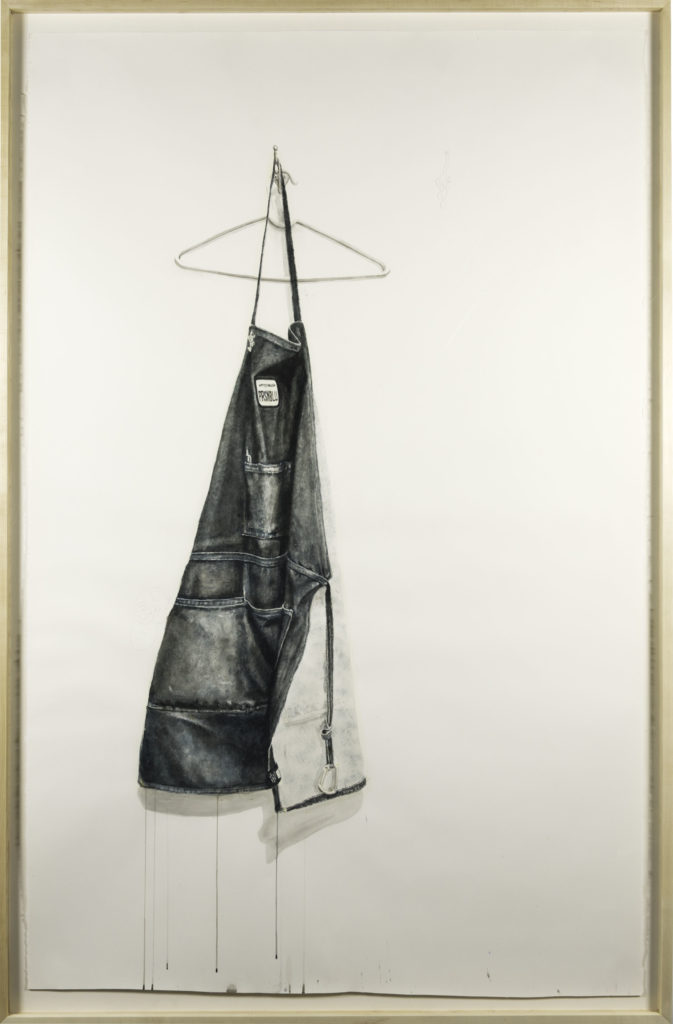 Holly Greenberg
Artist Statement
Remains is a series of portraits of machines, clothing and equipment from the studio of the late Timothy S. Brower. Faced with the possibility of someday having to let go of these pieces of equipment, the artist chose to create paintings of her husband's belongings as a means to retain them. The resulting life-sized images become a stand-in for the body itself, as well as, evoke the palpable absence of their owner.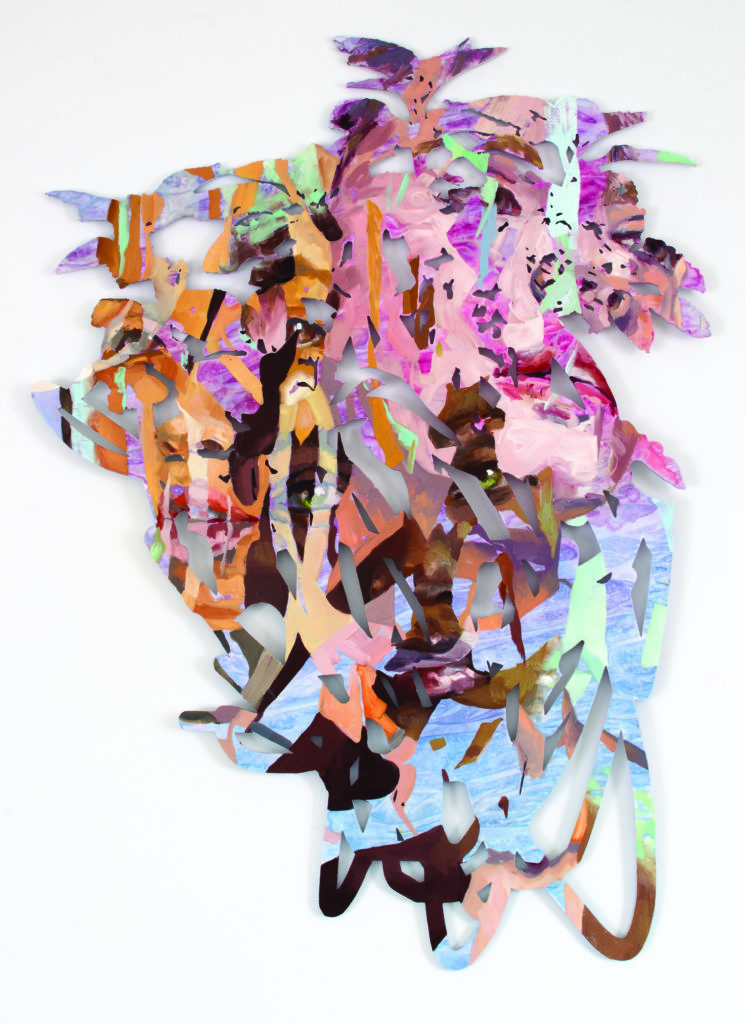 Lacey McKinney
Artist Statement
I explore embodiment, gender, and implications of power structures to shift constructed meanings of the body. I utilize various media that I am drawn to because of their alchemy such as painting, drawing, as well as both analog and alternative photographic methods.
Collage is an important aspect of my process as it carries a rich history of the subversion of imagery. Reconfiguring parts to form a differing whole allows me to think about how the body is shaped through social ordering as well as ways in which people take up space in relation to one another and cultural expectations. For example, the meaning of a pair of crossed legs contrasts with those that are outstretched.
I am curious about how beliefs can manifest physically, developing the flesh as a text that expresses the human condition. My interest lies in foregrounding previously dismissed narratives by expressing complexity, movement, and heterogeneous visual representations thereby expanding convention.
I use my art practice as a tool to enact rearrangements that question the roles and dominance of images and image-makers. Approaching these politically charged issues, I aim to bring my own experiences and complicated relationships within hierarchies, where I do and do not benefit from the structures I am questioning.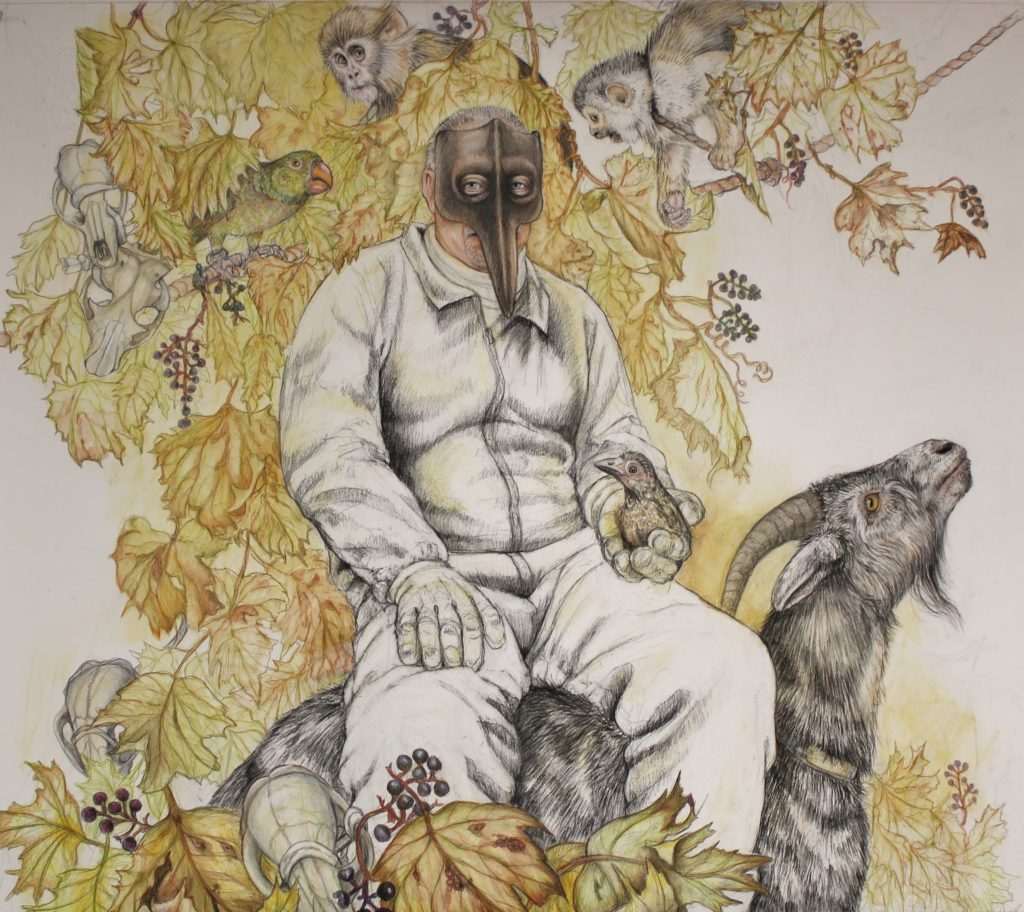 Donalee Peden Wesley
Artist Statement
In my drawings I explore the depths and subtleties of human / animal relationship by creating drawings that reflect the undercurrents of archetypal emotions, ideas and internal and external struggles, and their effects on us and the animals that share our environments.
I am interested in portraying the dualities present in this experience. There are no absolutes in life. Rather, each experience / event is comprised of conflicting opposites. Each individual additionally has her/his own unique experience. Therefore, my drawings are ambiguous and not necessary resolvable, offering an opportunity for reflection and interpretation by each viewer. The pieces merely reflect a subjective understanding of the human/ animal condition, and my desires to explore that further.
I try not to force my interpretation, but rather share with the viewer what I am currently exploring. I find the animal / human figures to be best suited for this task of narration.