In Conversations with Nature
August 27 to October 16, 2022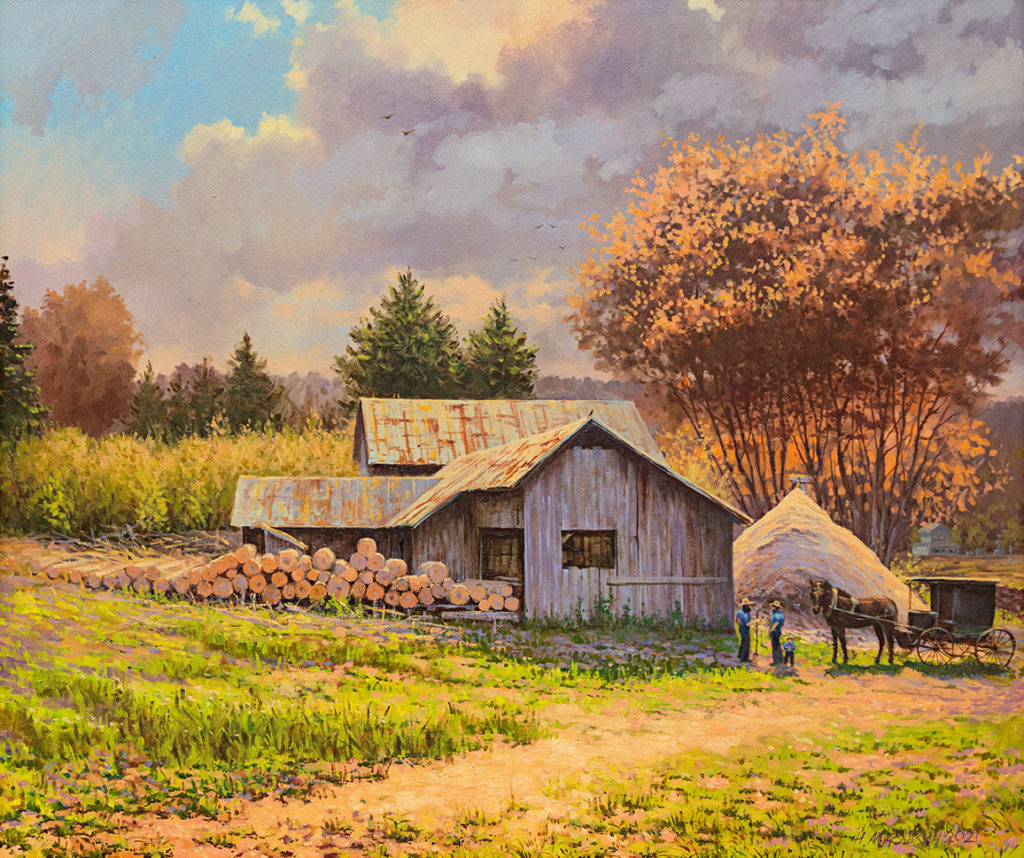 Syracuse artist Nikolay Mikushkin will display his plein air landscape paintings in a solo exhibit at the Schweinfurth Art Center's Davis Family Gallery.
Opening will be 5 to 7:30 p.m. Saturday, Aug. 27, 2022.
Artist's Statement
I consider myself a plein air landscape artist with my work unified from this special and original dialogue that I have with nature. I have always been driven and fascinated with the rural environment. From scouting and searching the perfect location for my painting, to the rush of adrenaline when the weather would shift, I had not stopped painting the outdoors for the past forty years.
I had always been interested in the arts. I had developed a love for painting while growing up in a small town in Kazakhstan. I completed degree in Art Design from the College of Fine Art in central Russia. I followed my passion for the Fine Arts at the St. Petersburg Academy of Painting, Sculpture and Architecture, named after Ilya Repin, concentrating on Drawing. I was introduced to plein air when I was in high school and spend the rest of my education concentrating on this discipline. I am highly influenced by the work of French Impressionists Monet and Sisley, in addition to Russian plein air painters Palenov and Repin, whose work have assisted me in the development of my own style.
In the late 90's I immigrated to the Unites States, reuniting with my extended family in New York City. I became a member of United Scenic Artists Local 829 working as a Scenic Artist for Motion Pictures, Commercials and Television.
Nature has always been my calling. I find that it is completely inescapable. Though I commute daily in the urban-ness of the city, I am constantly thinking about the rural-ness that I paint in. I am surrounded by beautiful lakes, rivers, waterfalls and villages. I am trying to capture the stunning seasons that Central New York has to offer, whether it is Fall in the Adirondacks or the snowiest winter in Syracuse where I reside.
I wish for my work to represent a reminder that we should not forget nature, but cherish the moments that we might take for granted.
About the Artist
Nikolay Mikushkin has participated in many regional and national exhibitions. His work was collected for private and corporate collections. His paintings have been included in The Benington Center for the Arts Museum exhibitions and Salmagandi Art club members show. Numerous paintings were selected for permanent installation at Upstate Cancer Center in Syracuse, NY. In addition, his work was selected for Saranac Lake Visitor Guides amd for View Center for Arts and Culture in Old Forge, NY.
Mikushkin participated in the numerous Plein Air Paint Outs and Competitions winning, Best New Artist 2014,Vanishing Landscape Award 2015 and Best use of Light 2019 at Plein Air Easton among others. Mikushkin is a member of New York Plein Air Painters/NYPAP and Associate member of Oil Painters of America. He is also a member of United Scenic Artist of America/USAA working for Television and Film.