Circular Abstractions: Bull's Eye Quilts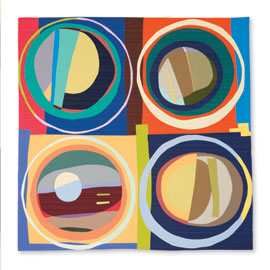 June 3 to Aug. 20, 2017
Circular Abstractions is a special summer exhibit curated by world-renowned quilter Nancy Crow and organized by the Muskegon Museum of Art.
Curator Nancy Crow challenged the participating artists to create a unique design based upon the Bull's Eye pattern: four circles comprised of concentric rings (the iconic target symbol), set in a grid of four blocks, or quadrants. The quilts have been conceived in improvisation, in building upon or breaking down an established pattern into something new and individually expressive.
Sponsors for this exhibit include the Osborne Memorial Association, the Senator John A. DeFrancisco Arts in Cayuga County Program, and Bayer Crop Science.
Participating artists include:
Patricia Altenburg, State College, Pennsylvania
Kathy Anso, Otorohanga, New Zealand
Julie Drake, Anacortes, Alaska
Maria Elkins, Beavercreek, Ohio
Tommy Fitzsimmons, Romeoville, Illinois
Valerie Maser-Flanagan, Carlisle, Massachusetts
Julia Graziano, Manlius, New York
Patricia Guthrie, Oakland, California
Ruth Harmelink, Granger, Indiana
Wendy Hook, Fort Worth, Texas
Monica Johnstone, East Grand Rapids, Michigan
Roxanna Kantarjian, Toronto, Ontario
Kaci Kyler, Brush Prairie, Washington
Pamela Loewen, Williamston, Michigan
Beth Markel, Rochester, Michigan
Marni McMahan, Heriot Bay, British Columbia
Diane Melms, Anchorage, Alaska
Sue Ritter Milling, Indianola, Washington
Randi Morgan, Rolling bay, Washinton
Adrienne Murray, Surrey Hills, Australia
Heather Pregger, Fort Worth, Texas
Karen Querna, Spokane, Washington
Lee Sproull, Leeds, Massachusetts
Susan Wessels, Somerset West, South Africa