Artist seeks to bridge gap between science and mysticism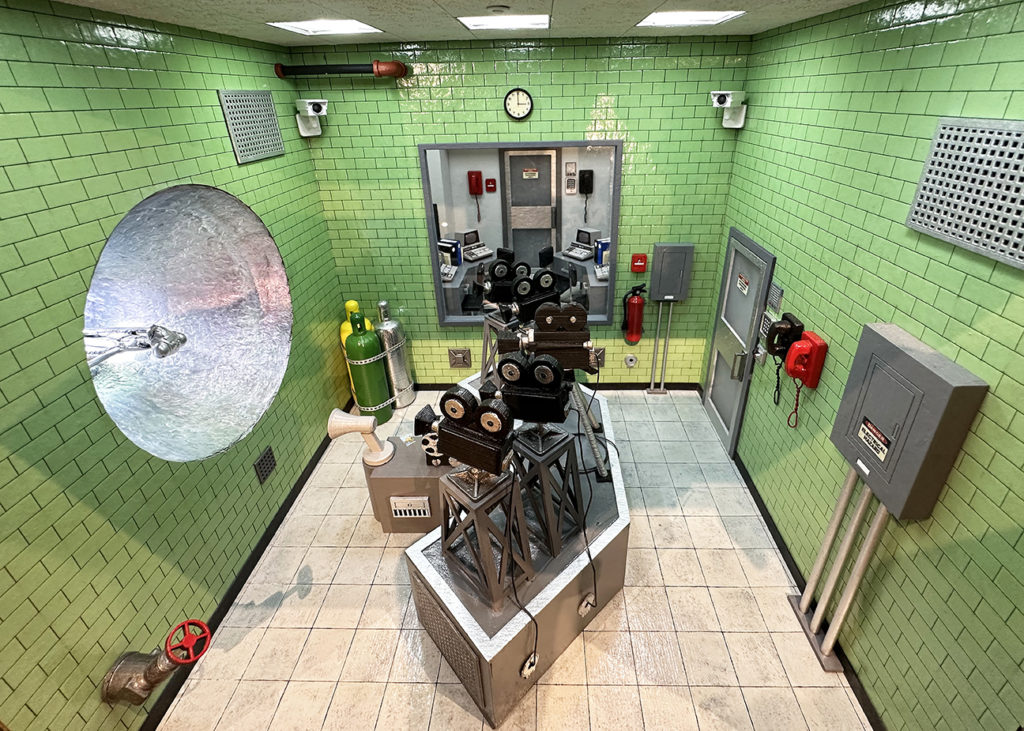 Exhibition focuses on the uncanny, weird and eerie
AUBURN, NY (June 1, 2023) – Buffalo-based artist Gary Sczerbaniewicz builds beautiful wooden pedestals that have small windows. Look inside and you'll get a peek into the artist's mind as you view miniature dioramas of a normal bedroom – until you notice the slime pouring in through a window.
"I love certain genres of horror fiction and film (Cosmic Horror, Folk Horror, Post-Apocalypse, etc.) and specifically gravitate toward subjects that evoke a sense of the weird and the eerie," Sczerbaniewicz said. "These themes are resonant in the post-modern cultural landscape and directly speak to my current arc of research into anomalous phenomena."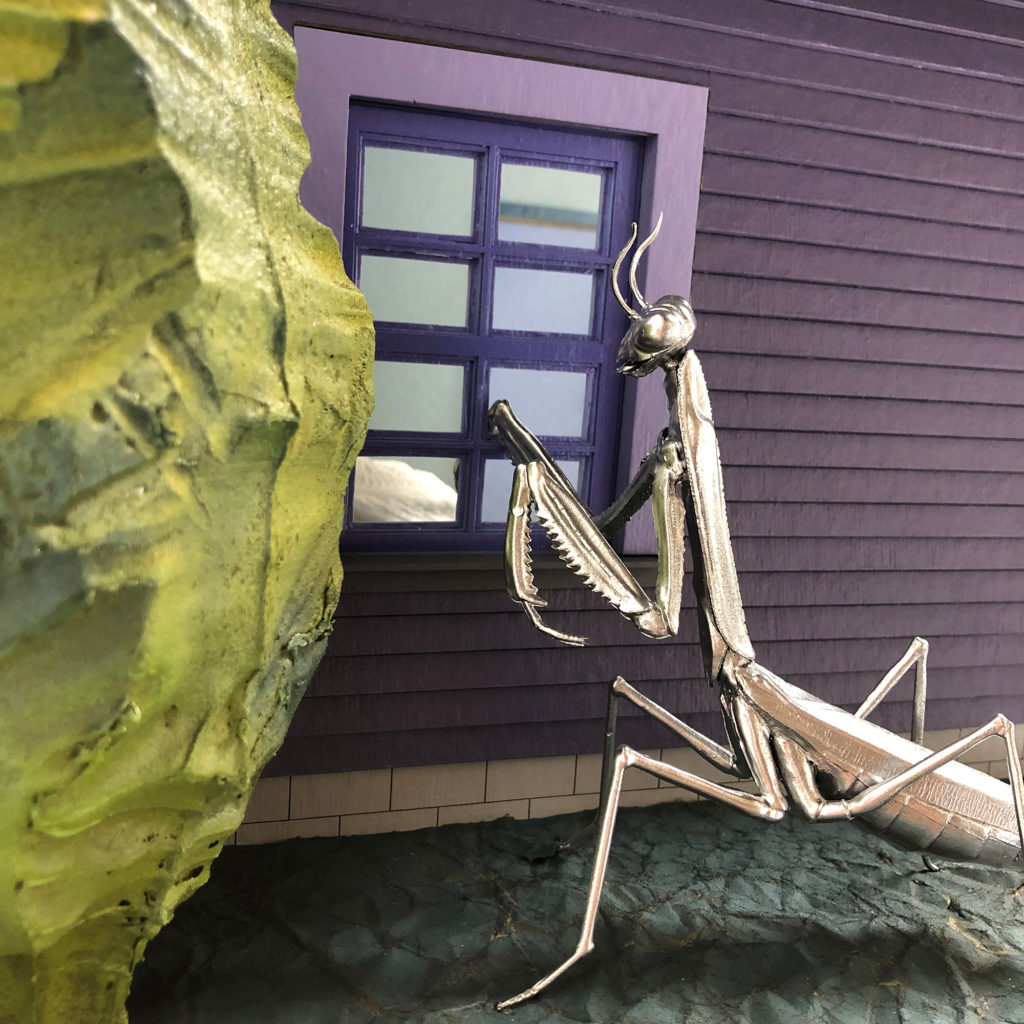 "The Palace at 3AM," his exhibit of miniature architectural spaces, will be on display at the Schweinfurth Art Center in Auburn, NY, from June 10 through Aug. 20, 2023. The opening reception will be 4 to 6 p.m. Saturday, June 10, 2023. The opening is free and open to the public.
Sczerbaniewicz's focus on miniature models stems from a childhood making dinosaur dioramas for school projects and a job drafting and model making for an architectural firm.
"That work experience gave me professional permission to engage in this form of artistic play, model building," he said. "This method of compressing physical reality into easily digestible scale model scenes greatly impacted my thinking and remains a process I utilize in my sculptures and installations."
The works included in this exhibition represents subjects that Sczerbaniewicz has been researching for nearly a decade: séance parlors, alien abductions, hypnogogic events, inter-dimensional ruptures, perceptual delusions, anomalous incursions, and imminent global perils.
He focuses on "the uneasy co-existence between Western rationalist-materialist world views and those emanating from non-scientific, irrational, or superstitious/religious systems." He cites climate change and vaccines as examples, where there is one camp armed with reams of scientific data and an opposite camp fervently believing in "alternative facts" derived from an unquantifiable belief or ideological system.
"A third example, more pertinent to my current work, can be found in the debate over UAP (Unidentified Aerial Phenomena) reality," he continued. "Here, the scientific community and U.S. government has historically held that there is no evidence for the reality of anomalous phenomena – a finding that is in opposition to the majority public opinion and countless witness testimony."
Sczerbaniewicz experienced this conflict himself growing up Catholic. "I found myself constantly attempting to reconcile my waking consensus reality with an unseen counter-reality inhabited by angels, demons, saints, eternal punishments, apocalypses etc.," he said. "I vividly recall this sense of psychological disorientation derived from the frequent mental gymnastics of negotiating these antagonistic ontologies."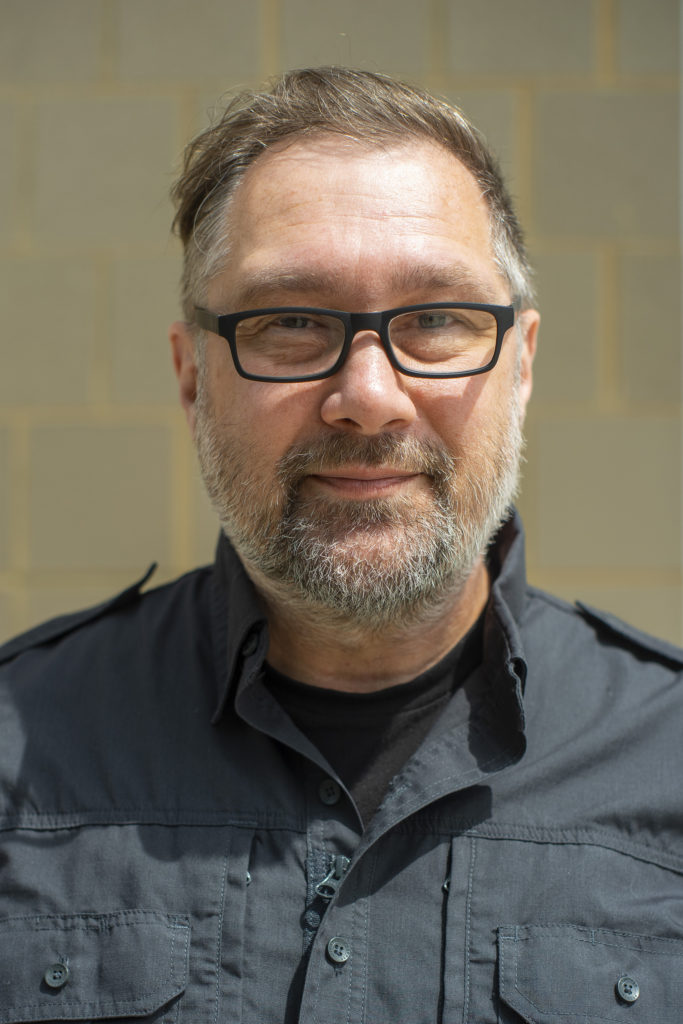 Although his exhibit contains pieces from different series, its title references Alberto Giacommetti's iconic surrealist sculpture "The Palace at 4AM." "In my exhibition, the clock has been turned back by one hour – an hour heavily associated with all spectra of paranormal commerce," Sczerbaniewicz said.
He said he hopes his work triggers memories, emotions, or personal history in viewers. "Although many of my subjects are drawn from obscure sources, my hope is that through the compositions and aesthetic treatments, the viewer will walk away with a lingering or persistent sense of enigma from the experience," he said. "I think the work can also be experienced in a purely visual way as well, which is acceptable to me."
The exhibit is sponsored by Osborne Memorial Association, Nelson B. Delevan Foundation, and New York State Council on the Arts.
If you go …
WHAT: "The Palace at 3AM," a solo exhibition by Gary Sczerbaniewicz
WHERE: Schweinfurth Art Center, 205 Genesee St., Auburn, NY
WHEN: June 10 through Aug. 20, 2023
OPENING: 4 to 6 p.m. June 10, 2023; free and open to the public
GALLERY HOURS: 10 a.m. to 5 p.m. Wednesdays through Saturdays and 1 to 5 p.m. Sundays. Closed Mondays, Tuesdays, and major holidays.
ADMISSION: $10 per person; Schweinfurth members, participating artists, and children 12 and under are always free
ALSO ON DISPLAY: "Nancy Crow: Squences, Riffs, and Drawings" and "I Am a Friend of Dorothy," a solo exhibit by Kevin Carr
MORE INFORMATION: www.myartcenter.org or 315.255.1553