2 or 3 Days of Classes
Plan 1 (3 nights, Sun. - Tues.): $380
Plan 2 (4 nights, Tues. – Fri) $476
5 Days of Classes
Plan 3 (6 nights, Sun. - Fri.): $750
Plan 4 (5 nights, Sun. – Thurs.): $648
10 Days of Classes (Both Sessions)
Plan 5 (13 nights, Sun. – Fri.): $1545
* Plan 5 covers both sessions and includes Saturday, July 23.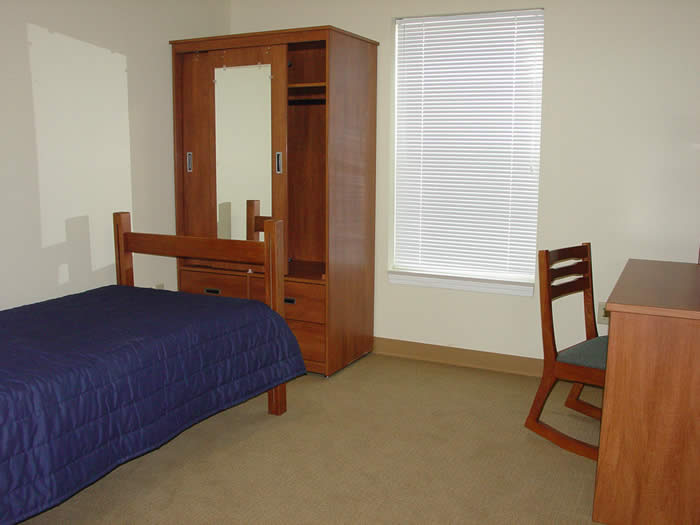 To qualify for housing, you must be registered for QBL classes
Housing is not available for spouses, family members or guests. Housing and meals are offered in a typical college setting. Each attendee is assigned to an air conditioned dorm room within a suite.
Housing Information:
All housing at Onondaga Community College is suite style.
All suites accommodate 4-5 people.
Single room: private, individual room within a suite.
Suite: Group of 3-4 bedrooms, 2 full bathrooms, living area and kitchenette for 4-5 people.
We are not currently offering doubles, every person who registers for housing will receive a single private room.
In order to place a housing request to share a suite with friends you must fill out the appropriate section on the QBL registration form. When submitting your housing request please make sure that the person or persons you are requesting are also requesting you. Housing requests will be processed on a first come/ first serve basis, and will be accommodated based on availability. Early registration is recommended.
Please note: If your suitemate housing request includes enough participants to fill an entire suite, please understand that in order to process the request we must have registrations from the entire group. If your housing request does not fill all available rooms within your suite, the remaining suitemates will be assigned by QBL.
What's Provided/ What to Bring
Suite features include a full kitchen including a stove and refrigerator, living room, shared restrooms, and are all fully furnished.
Linens are provided including 1 set of sheets, 1 blanket, 1pillow, 1 bath towel and 1 washcloth.
A full-sized stove & refrigerator are provided.
All dorms are air conditioned.
Small appliances such as microwaves and coffee makers are not provided.
All rooms have overhead lighting only. No table or floor lamps are provided.
Fee laundry facilities are available.
Cleaning service is not provided.
All rooms are accessible and have elevator access.
Dorms are a short walk from the cafeteria and most classrooms.
Things to Consider Bringing to QBL:
Antibacterial handsoap, cleaning supplies
For Kitchens:
Kitchens do not include any utensils, dishes, towels, ice cube trays, cleaning supplies, coffee maker, tea kettle, small appliances, or cleaning supplies. We recommend you coordinate with suitemates to bring those items that will make your stay more comfortable. Some participants bring all kinds of things and end up with a fully stocked kitchen and decorations. But most take just the essentials.
For Bedrooms:
Dorm rooms include overhead lighting, a small wardrobe, a desk, chair and bed. The rooms are carpeted. Linens provided include sheets, pillow and towels. Most long time QBL participants prefer to bring their own linens (for XL single bed). Some also bring mattress pads. Other items that people often bring include alarm clock, reading lamp, extra blanket.
For Bathrooms:
Bathrooms do not include soap, bathmats, or hairdryers. Bathrooms are close to the bedrooms.
The dorms have wifi access for those who wish to bring computers.
For more information about what to bring to QBL please email qbl@schweinfurthartcenter.org
All housing packages include lunch and dinner, beginning with dinner on the night you arrive. Meals are served in the college cafeteria. The cafeteria has multiple food options and can accommodate most diet restrictions. However, if you have any specific concerns you can visit the cafeteria and speak to the chef when you arrive at QBL.
Meal Schedule
Lunch is served Monday - Friday, 11:30am - 12:45pm
Dinner is served Sunday - Friday, 5:30pm - 6:30pm
Please note: Dinner on Sun 7/17 & 7/24 is served from 6-7pm.
Breakfast will be available for purchase in the cafeteria from 7:30am - 8:30am.
No meals are served on Saturdays.
Commuters
Participants who are commuting to the conference and are not registered for a housing plan will have the opportunity to pre-register for a meal plan. Information will be mailed along with your QBL conference information packet in April. Commuters will also be able to purchase lunch ala carte in the cafeteria.