All the Elements: Designing Quilts with Foundation Piecing with Sarah Bond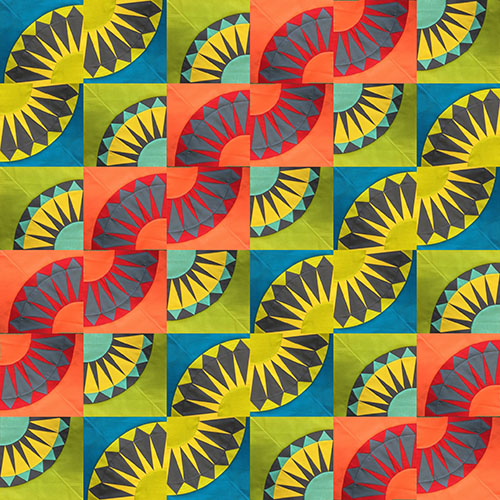 3 Days Wednesday- Friday, July 27-29, 2022
In this three-day workshop, I'll give you the patterns and show you the tricks and shortcuts for some of my favorite foundation piecing patterns. I've put many of the best and most beautiful patterns together, all resized and redesigned to fit together in a quilt of your own design. I will demonstrate all the elements, including ways to make the process easier. Then we'll look at all the elements and talk about different ways to bring them all together.  We'll talk about color and composition and how to get your elements to join and play off of one another to the best advantage.  You will leave with all the tools and some of the blocks you'll need to put together your most amazing creation.
I've been making quilts for many years and I seem to have found my niche with foundation piecing. This technique allows me to achieve sharp, clean points and lines without undue fussing in cutting and sewing. I like a lot of action in my quilts. Points and lines and curves, color and pattern, and repetition all play a part. Foundation piecing is a tool for me to create the designs that live in my head and get them out and onto quilts!
I've designed a lot of different quilts over the years and have often thought of taking my favorite elements for all the quilts and combining them together in one quilt. This is my chance, and yours, too.
Level: All Levels